In one week, a Kickstarter campaign called We the People, which aims to get public art into the hands of demonstrators for Donald Trump's inauguration, has raised more than $1.2 million.
The Amplifier Foundation, a Seattle, Washington-based nonprofit organization, tapped artists including Shepard Fairey, Ernesto Yerena, and Jessica Sabogal to create what the foundation calls "images to disrupt the rising tide of hate and fear."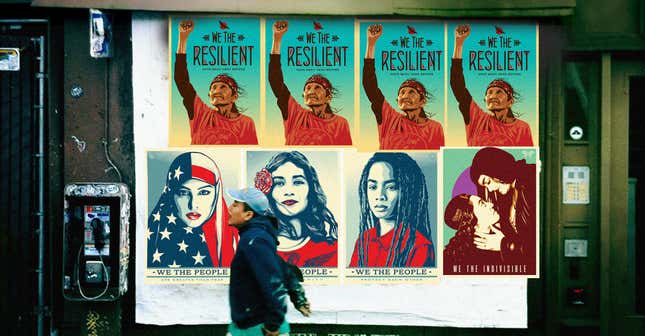 "Our America is one of equal humanity that does not demean or discriminate," says a spokesperson in the campaign video. "These ideas are not partisan. They are the foundation of America, and on inauguration day, with your help, we will make sure everyone remembers them."
America's president-elect is conspicuously absent from the We the People images. Fairey had created a poster entitled "Demagogue" depicting Trump shortly before the election, but now that the die is cast, the artist told PBS, the moment for that sort of direct, overt criticism has expired.
"When people get defensive, I think that really limits their ability to change their mind," said Fairey.
Instead, We the People depicts protagonists from groups the Amplifier Project identified as vulnerable in the present political climate—Muslims, Latinos, African-Americans, and LGBTQ people among them—using the tropes of patriotic American campaign posters.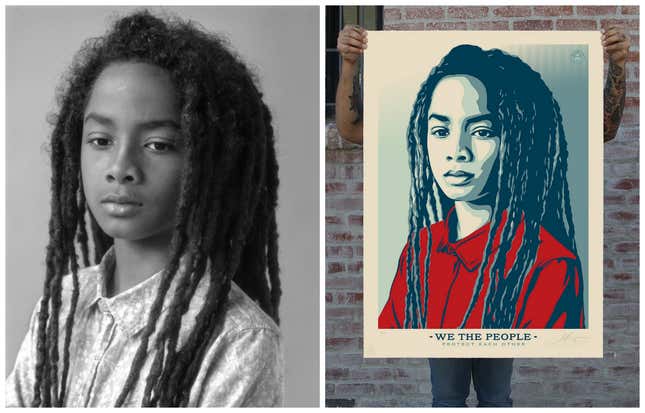 Fairey told PBS that each model was shot by a photographer who related to their identity, before they were immortalized in his graphic style: "The Muslim woman was shot by Ridwan Adhami, who is an accomplished photographer and proud Muslim," he said. "The Latina woman was shot by Arlene Mejorado, a San Antonio- based artist and photographer and proud first-generation American, and the African-American kid was shot by Delphine Diallo, a French and Senegalese photographer based in New York."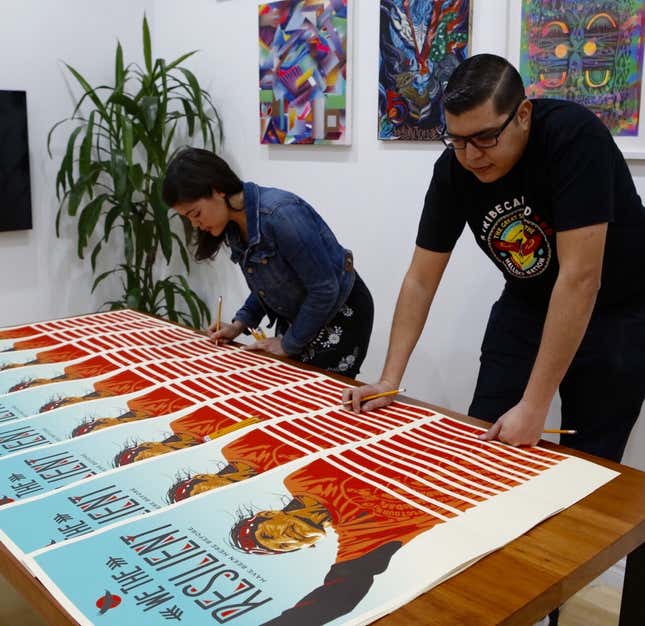 The Amplifier Foundation will use the funds it receives to print and distribute the artwork in Washington, D.C. for Inauguration Day and the Women's March on January 21, as wheat paste posters, placards, and full-page newspaper ads in the Washington Post. The images are also available as free high-resolution downloads on the Amplifier Foundation's website.
Mark Gonzales, a spokesperson for the Amplifier Foundation, told Quartz the organization's small team was humbled by the immense support the project received, and that the inauguration is just the beginning.
"We the People is a broadcast campaign that uses visuals to lift up those who have been insulted, and to pair each image with a value that we cannot lose sight of, like 'defend dignity' or being 'greater than fear,'" said Gonzales. "Stage two will partner with institutes, schools, museums, and small town halls to create spaces for people to engage, dialogue, and discuss these times with one another in meaningful ways, to use art as a spark to actually speak with one another. Not monologues; dialogue and exchange."