First it was 2014, then 2015, and now 2016. The warmest-year-on-record award has been won by three consecutive years. That's not good news.
Between May 2015 and August 2016, each month tied or surpassed the highest temperature on record for that month. That 15-month streak is the longest in recorded history. Overall, NASA's best estimate suggests that the global mean temperature for 2016 was about 1.2 °C (2.2 °F) higher than late 1800s.
Although the high 2016 temperatures were in part due to a small upward push from the natural warming seen during an El Niño phase, most of the contribution towards the rising temperatures are the result of human-made emissions into the atmosphere. Without the El Niño boost, 2017 is likely to be cooler than 2016, but NASA scientists believe it'll still definitely be among the top five hottest years on record.
The prize for the most shocking trend, however, has to go to the Arctic. In 2016, the region recorded mean temperatures that were 3 °C higher than the global mean.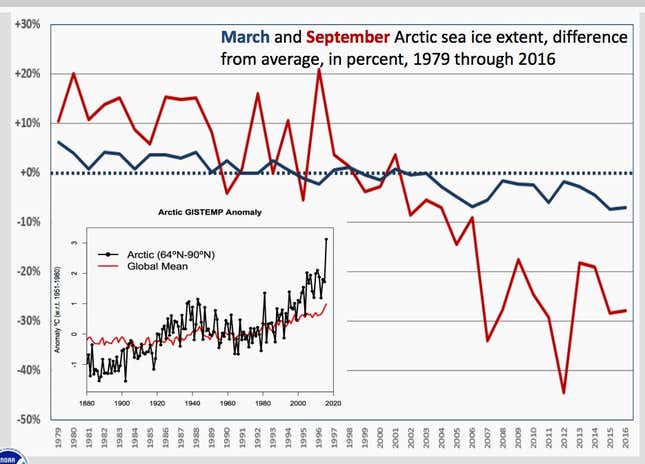 If the total sea-ice area at both the north and south poles are added up, then the months of October, November, and December also set the record for the lowest ice coverage on record in those months.  Lower sea-ice cover means less sunlight is reflected back out of the atmosphere, which means more solar heat gets trapped and thus more ice melting. This kind of feedback loop is one of the reasons global warming—and its negative impact of the world—is likely to spiral out of control.