Bernie Sanders, style icon?
Odd as it may seem, the US senator from the small New England state of Vermont, known for his lived-in suits and grouchy-grandpa appeal, left his mark on the runway in Paris Jan. 18. Luxury label Balenciaga, which has become one of fashion's most buzzed about labels since appointing creative director Demna Gvasalia, showed jackets, t-shirts, a down shawl, and even pins that bore an unmistakable resemblance to the campaign logo Sanders used in his recent, unsuccessful run for the US presidency. The main difference, other than subbing its name in, was that Balenciaga added a third wavy stripe, whereas Sanders used just two.
The similarity to the "Bernie" logo, even down to the font, is hard to miss: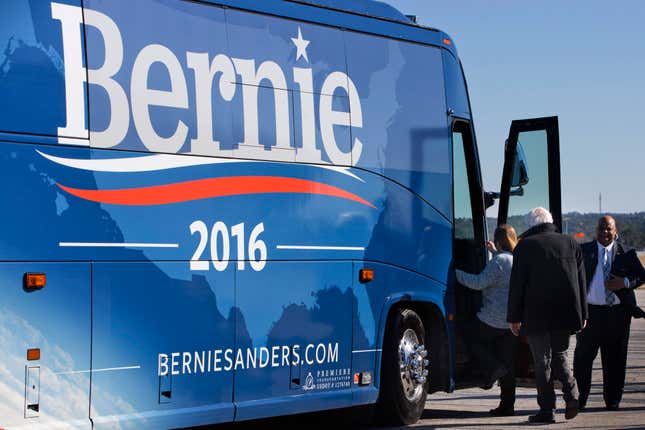 Why is Balenciaga channeling Bernie? The show was inspired by "corporate dressing" and the recent move of the Balenciaga atelier and the headquarters of parent company Kering into the same building. It created a mash-up of creative and corporate that played out in the boxy tailoring and unusual proportions Gvasalia has become known for, as well as riffs on plenty of corporate logos.
"If you look around, go to stores, on the internet there are so many brands. There are so many images linked to the brands and the message: whether commercial [or] political," Gvasalia told Business of Fashion (paywall).
Corporate is not how many would describe Sanders, the lone socialist in the US senate. His lived-in suits seem an unlikely inspiration for a brand that's so expensive its products are affordable to only a small segment of the population. But as a political candidate, he had to define his brand, logo included, like everyone else, and Gvasalia said he took influence from what he saw around him.
We've reached out to Balenciaga for comment and will update this post with any reply.
Clearly the drama of the recent US election has made an impact overseas. Gvasalia is a Paris-based designer from the former Soviet country of Georgia, with no apparent connection to the US, and even he couldn't keep clear of it.