Far away from the hectic downtown Washington, DC, a ballroom in the Bolger Center, a hotel in Potomac, Maryland, filled on inauguration night with around 200 Trump supporters in rainbow bow ties, gold suits, and leather pants. The glitzy affair was dubbed The Inaugural Gays for Trump "DeploraBall" Gala, and was a sister event of the controversial alt-right victory party that took place the night before.
The party proudly bore its title, a moniker that stemmed from Clinton's description of Trump supporters as a "basket of deplorables" during a presidential debate in September. Many on the right re-appropriated Clinton's unfortunate phrase, as organizer of the ball Robert Luke Antonek said, a "badge of honor."
The act of reclaiming the term acquired a special meaning during the event organized by Gays for Trump, as several people pointed out to me.
Antonek said that as a gay man, he had faced plenty of discrimination in his life, kicked out of the army at 21 for his sexual orientation, then booted from his church for the same reason. Later, he became involved in politics. "My liberal friends attacked me more for being Republican than my Republican friends attacked me for being gay."
"We're claiming a derogatory term and we're turning it into a strong stance that says we appreciate and value who we are even if you didn't. And it's the same thing that the gay community did when they were harassed and told they didn't have the right to have their beliefs, and stand tall because of who they were," Antonek said. "And they turned turned the term around, and now 'gay' is an accepted term and we think of it fondly. The same thing happened with 'deplorable.' When we were told we were deplorable, we thought 'well that's what you wanna call us, that's what we'll be. But we'll be the best deplorables you can think of.'"
Antonek was emceeing a raffle during the ball: "Ivanka Trump! Beautiful pumps for the woman in your life—or man!"
Though the event was billed as Gays for Trump, many were not, and those who were didn't see an inconsistency with his policy and their identity. When asked about Trump's treatment of minorities, Antonek diverted the blame.
"I think the Clinton campaign was built around trying to smear Donald Trump as being any group that posed a threat of her losing an election — women, minorities," he said. "If you look at what he really said, you look at the issues, you don't really see him speaking that way. He said he was against Mexican rapists being in the country, but they turned it into him saying all Mexicans are rapists. He never said that." Antonek was referring to Trump's disparaging statements about Mexican immigrants from last June.
What it means to be a "deplorable"
More than anything, the phrase was seen as one of deep condescension: a perfect example of Washington elitism.
Michael Lemon, a real estate title examiner from Virginia came to the ball with his wife. He voted for Obama during his first campaign but became disillusioned after he saw many of his acquaintances lose their jobs and homes. He said that Democrats have had a decade to change things around in America, and they didn't.
"If I say, 'I'm ready for change, I want a businessman to see what he can do,' you may say 'I don't agree with you.' But that's not what they are saying. They are laughing, saying 'you're an idiot, [Donald Trump] is a joke,'" he told me. "These guys in nice suits, this condescending tone—it gets under people's skin."
Kai Chang is in finance in California. He was clutching his chihuahua, named Nymeria after one of the direwolves in Game of Thrones. Chang, who said he's not gay, told me: "We are hated and reviled by all the right people: the globalists, the insiders, the one percent, the ones who have been robbing the country blind for the last 50 years."
When I brought up the fact that Trump part of the one percent, Chang said yes, but he viewed the "one percent," a term borrowed from Bernie Sanders, as more of a mindset. Trump is relatable to a person of "average IQ, average income," just like Oprah Winfrey is to a housewife that makes $30,000. 
"Whereas on the other hand, you can be very very poor, and have an elite mindset," he said. "I'm drowning in student debt but I think I'm better than you because I've got three PhDs and you're just a guy [working] at Walmart."
A ticket to the party cost $250. At a silent auction to benefit the organizing group and veterans, bids for framed photos of celebrities such as George Michael, Audrey Hepburn and, of course, Donald Trump were starting at $275 or $350. Someone bid several thousand dollars to see "Hamilton" on Broadway.
What bothered Chang about the "deplorables" comment, and the portrayal of the right more generally was misunderstanding, which he said leads to stereotypes. "We spend most of our lives being mislabeled, maligned, and told by the world that we're closeted white supremacists and homophobes. And that's clearly not true," he said, comparing the misconception to the way LGBT people were defined several decades ago.
"Imagine how frustrating it is… people thought that all these guys are wearing leather and whipping each other—that's why gays are like," he said. "Obviously that's a tiny portion of a larger community."
Nearby, a man in a wheelchair was giving interviews wearing a mask of Pepe the frog, an internet meme re-appropriated by the right, including its neo-Nazi fringes to represent white supremacy.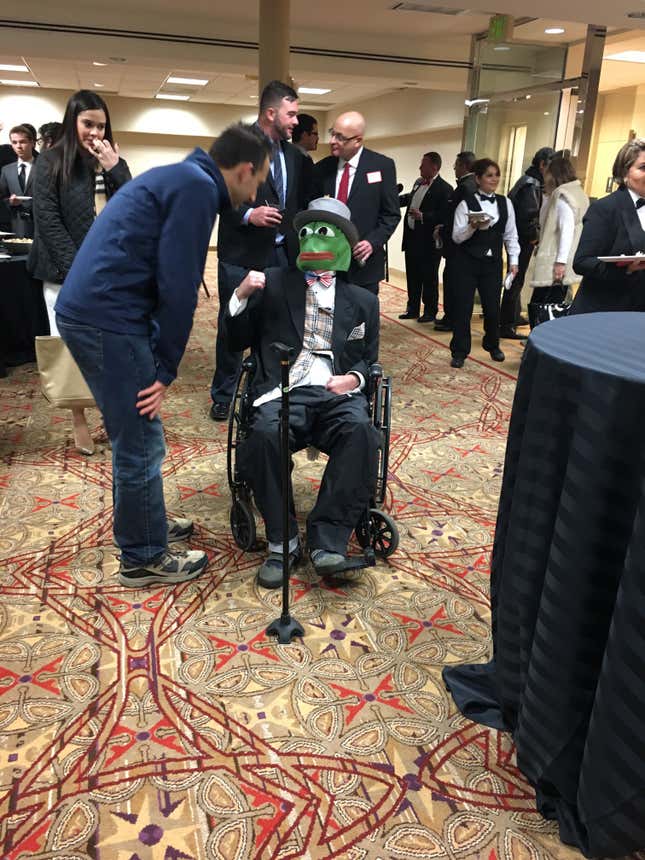 But despite, or perhaps because of this mislabeling, according to these right-wingers, the term was easy to re-appropriate and to reclaim. Kat Niedermair, one of the organizers of the event who was also behind the "DeploraBall" branding online, said it was "a bit of a blessing." Taking on the term became an act of separating themselves from the elites, "a resistance, a rebellion." In the background, a white woman with long dreadlocks was performing on stage, singing about a "new day."
Niedermair attributed its spread to two aspects of the term: "the trollishness," which was "fun and rebellious," and "this feeling that sort of awakened in everybody that this is our time to fight corruption that we see blatantly, the political correctness and the elitists."
Chang, who was born in China, added that the reclaiming was easy because the term was so extreme. "When she said it was a 'you don't understand us.' It was the same thing when people say that all Trump supporters are Nazis. This is a very un-Nazi crowd," he said, gesturing to the ballroom. "It's so laughably off."
"If someone accused you of something that has a sting of truth, then you're oh, that kind of stinks…Here it's so obviously untrue. We're happy, we're multicultural," he said.