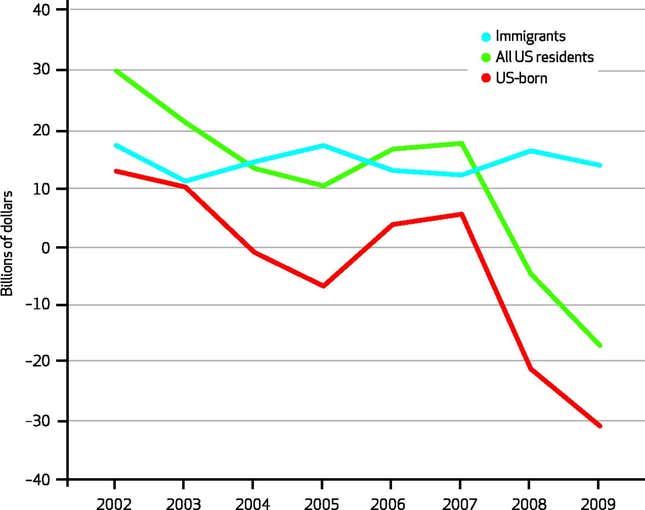 This chart shows how native-born Americans and immigrants affect the finances of Medicare, the US public health insurance for seniors. Immigrants consistently pay in more money than they take out, while natives cost the program far more than they contribute. The data, from a new study published in Health Affairs, is the latest to confirm that immigration will help save the US public money on social programs.
It's the demography, stupid. Immigrants are younger, and have a higher work-force participation rate than native Americans, which means they pay more of the pay roll taxes that fund Medicare for longer. In the case of non-citizen immigrants, they may pay those taxes but be unable to claim benefits, and in other cases, older immigrants retire in their home countries and aren't around to claim US benefits. Also, immigrants are generally healthier than native-born Americans.
The surplus will continue. Immigration is projected to grow in the next eighteen years. And the largest recent cohort of immigrants—those who arrived from Mexico during the US economic booms of the 1990s and 2000s —aren't likely to retire for decades to come. Thus, the study's authors conclude, new arrivals will continue providing a subsidy for natives.
The immigration bill could turn on access to health care. If the immigration reform bill moving through Congress were to be voted on today, it would fail, according to a political scientist working to predict the results of a vote. That's partly because critics of immigration think new immigrants would impose heavy costs on the recently expanded health care system. Such thinking makes findings like this all the more important: skeptics need more convincing that immigration will improve the economy, not destroy it.