Just 24 hours after Donald Trump had been sworn in as the 45th president of the United States, hundreds of thousands of women (and some men, too) amassed in the country's capital cities to protest his election.
Armed with signs with slogans like "Dump Trump," "Tiny hands, huge asshole," and "I can't believe I'm still protesting this sh-t," protesters gathered from Boston to Los Angeles, some breaking into chants of "This is what democracy looks like," and "Women's rights are human rights."
The numbers were far higher than expected in many big cities, and the attendance in Washington, DC alone was estimated 500,000, double the audience for Trump's inauguration. The women's march organized around 600 protests globally, and originally estimated that three million would protest world wide, but it is likely many more showed up.
In New York City, an estimated 200,000 people, twice the number expected, marched across midtown Manhattan.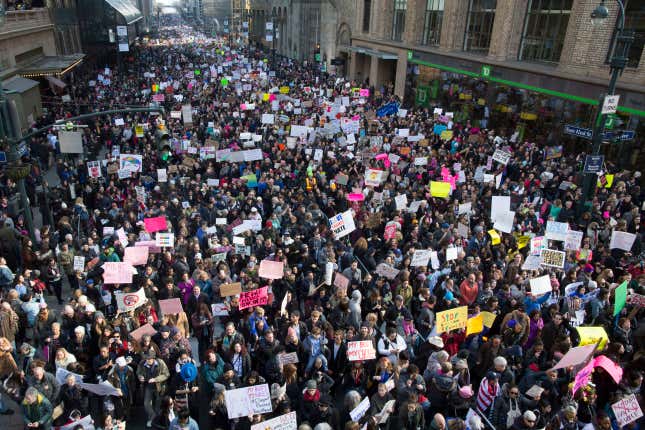 Los Angeles drew 150,000, while in Chicago the crowd was estimated at 250,000,  so large, police cancelled the actual "marching" portion of the demonstration: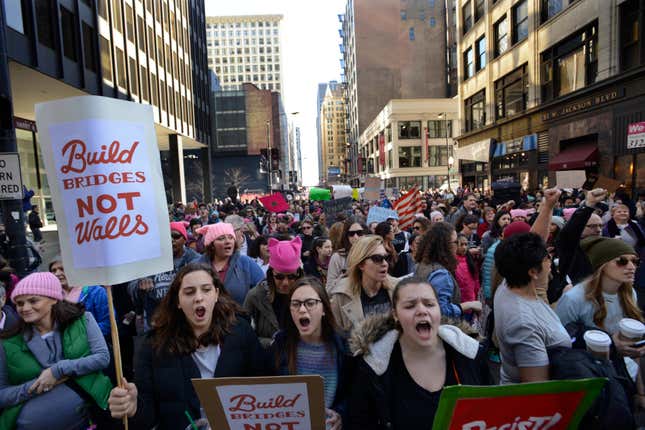 In Boston an estimated 125,000 turned up, including Democratic Senator Elizabeth Warren:
In St. Louis, the crowd was estimated at over 10,000.
In Washington DC, where speakers included Gloria Steinem, thousands converged on the National Mall, far surpassing the numbers yesterday.
Trump complained during a speech at the CIA that media were lying about the size of the crowd at his inauguration.
Hillary Clinton, who was not on the official list of the march's honorees, tweeted in solidarity with the protestors.
Democratic senators Kirsten Gillibrand in DC and Chuck Schumer in New York, used the platform as an opportunity to fire up people in support against Trump. Gillibrand screamed to an energized crowd:
"This is the beginning of the women's movement…this is the moment you are going to be heard."