As millions of people gathered around the world to protest President Donald Trump's presidency, press Secretary Sean Spicer gave an impromptu briefing in which he chastised the media for being dishonest, threatening to "hold the press accountable as well."
He said that reporters misrepresented the size of crowd on the mall in Washington, DC yesterday for Trump's inauguration.
Spicer also said that there were tweets that were intentionally cropped to make the crowds look small. Part of the reason the mall didn't look as full during President Trump's inauguration as during Obama's, came down to the special covering that was added to protect the grass. The covering created an illusion "highlighting any areas where people were not standing."
It's true, as Vox reported, the National Park Service did install high-tech panels to protect the lawn ahead of the events. But, those panels were visible because the crowd wasn't big enough to cover them.
Here's a picture from the Associated Press: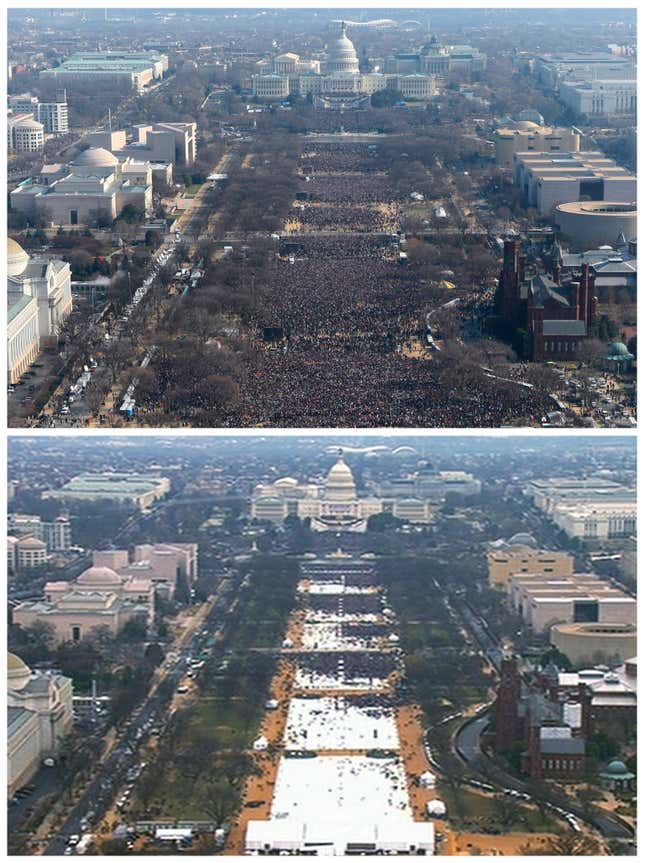 Spicer also threw out some statistics about the DC Metro. He said that 420,000 people used the metro on Trump's Inauguration Day, compared to 317,000 for Obama's 2013 ceremony. Washington Post reports that according to the Metro, 570,557 people took trips in the system between its early 4am Friday opening through midnight closing.
"Friday's Metro ridership was the lowest in at least two presidential Inaugurations, and also was lower than that of an average weekday, the agency said Saturday."
Spicer left the room without taking questions.