On Jan. 23, US president Donald Trump signed a series of presidential memoranda, including one reinstating the Mexico City Policy. The policy cuts off American aid to any international organization that offers abortions or counseling related to abortion.
As critics sounded off about the decision—an action that is likely to reduce access to reproductive-health services to women around the world and put women's lives at risk (particularly through illegal abortions)—many noted that it was signed by the new president surrounded by a group of men. Indeed, pictures from the Oval Office suggest an all-male panel witnessed a major policy move regarding a woman's right to choose.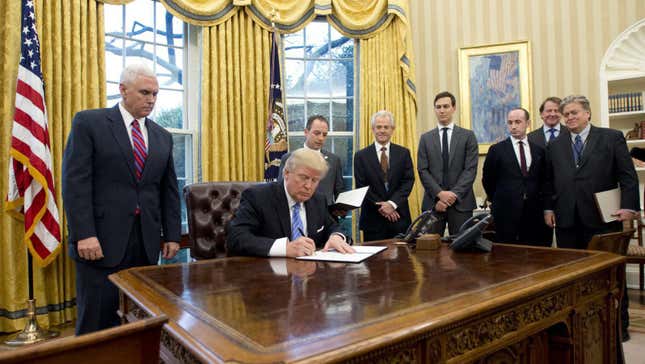 The photo above, and most of the similar pictures that circulated, were framed as to leave out the last person standing on the right. It was a woman, and she can be seen standing on the far right of this picture. The White House press department confirmed that she is Stephanie Grisham, a deputy press secretary who escorted the press into the room. She is not there in a political leadership or policymaking capacity, which doesn't change the essence of the story, but that she's there is an important detail.
This doesn't make it any less striking that there was no female political representation as a memorandum targeting women was being signed (Trump's cabinet doesn't shine in gender or racial diversity), or that just one of 11 people present in the room for any signing (but especially this) would be a woman. But it's a reminder of how, with just a slight turn to the left or a close crop on the right, our understanding of a scene can change.