Melinda Gates has become such a feminist hero that she now stars in her own comic book. It's a graphic re-telling of her work heading the Bill & Melinda Gates Foundation, part of a Female Force series that also features Hillary Clinton, Michelle Obama and Ellen DeGeneres. Now, using her unique position as head of one of the world's largest philanthropic organizations and her personal experience working in male-dominated technology companies, Gates is working to help women in tech.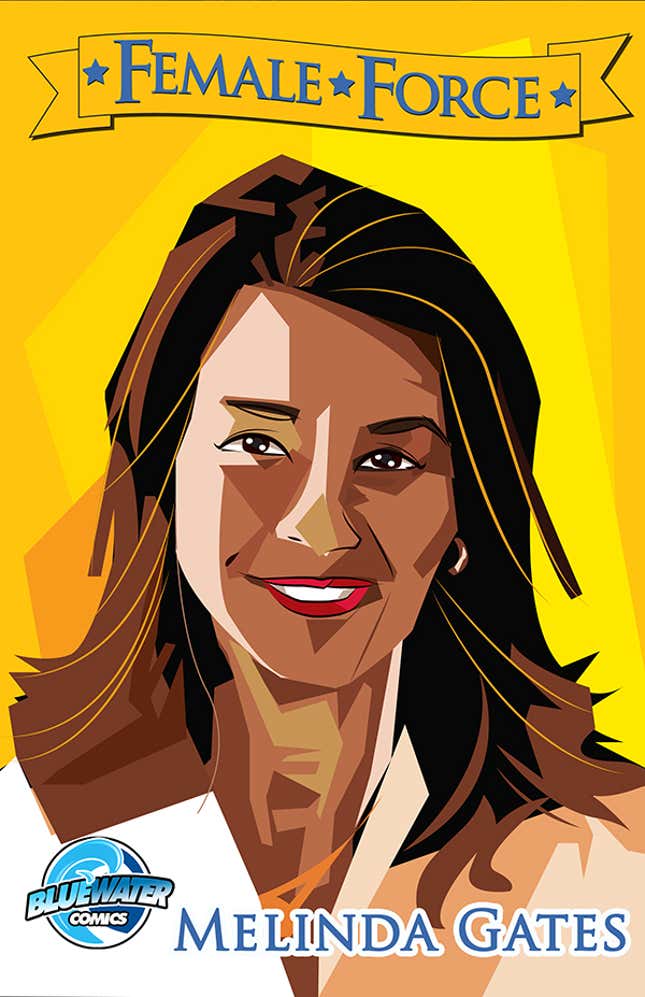 After she graduated from Duke with a bachelor's degree in computer science and an MBA, Gates joined Microsoft at the age of 22 as a marketing manager for a predecessor of Word. At the time, she was the youngest recruit and the only woman of the 10 MBAs hired that year. She rose through the company ranks quickly and within nine years had become general manager of information product. Despite her personal success, she took issue with certain aspects of Microsoft.
"When I started, I loved the industry and what we were building, but I didn't love the [corporate culture]. So I finally decided to quit," Gates said at the Fast Company Innovation Festival in November. "But then I thought, I'll just try to be myself for a while and see what happens. And I started becoming a lot more successful. I was a manager by then, and people [were] flocking to work in my area. It turned out they were people who wanted to have their voices heard."
Now, in her work at the foundation, Gates's effort is on ensuring women's voices are heard. She told Fast Company that she regularly speaks up in support of female colleagues in situations where a male employee might talk over a female colleague at a meeting, or restate what a female colleague said. "It's important for all of us who have a seat at the table—men or women—to stand up and say what we see," said Gates. "We have to be transparent about it and realize that we all make mistakes."
Famously shy of the public eye, Gates has taken on a more public persona in recent years in order, she says, to be a better role model for her daughter.
In May, Gates announced that the foundation is investing $80 million to ensure reliable data collection on issues impacting women and girls. "We cannot close the gender gap without first closing the data gap," Gates said in a statement. "We simply don't know enough about the barriers holding women and girls back, nor do we have sufficient information to track progress against the promises made to women and girls." The foundation will fund efforts that quantify the amount of time women spend doing unpaid work, for instance.
Eventually, she'd like to tackle issues such as why the number of women studying computer science drops at each stage of schooling, the lack of women and a female perspective in teams developing new products, family leave policies in Silicon Valley, and venture funding for businesses headed by women.
"For me, there are all these hidden inequities, these biases, that men and women have —bias about women working, what women should do," said Gates. "But if we don't look at those root inequities and we don't talk about them and make them transparent, we won't move forward as a society."
In late September, Gates told Backchannel that she is launching a new initiative to bring more women into the tech industry and to help them climb the corporate ladder. Currently, Gates says she is in "learning mode" and collecting information on how best to tackle this challenge and where to make investments.
Gates said her work across the world made her think about the gender inequality that exists in the tech world in the US, and the lack of women graduating with computer science degrees. "I was doing all this work in the developing world. I would be out learning about these issues for women and girls, and becoming extremely passionate about it for these countries, because I so believe that women transform societies," said Gates. "Then I'd be flying back home, and say to myself, 'How far has the US really come on these issues?' We've come a long way since my mom's generation. But have we made as much progress as I'd like to see us make? No way."