For skilled immigrants around the world, California's Silicon Valley is the promised land. Over the last few decades, San Jose and San Francisco have become home to tens of thousands of people from around the world with degrees in science, engineering, and math. Many have built crucial new technologies at Facebook, Microsoft, and other companies. Some founded multi-billion-dollar companies, including Google, Uber, Intel, and Tesla.
Historically, US immigration policy invited the world's smartest and most innovative minds to come, learn, and do business in the country.
US president Donald Trump is preparing to revoke that invitation. His draft proposals, along with an executive order on Jan. 27 halting travel from seven Muslim-majority countries and suspending the country's entire refugee program, promise to remake America's immigration rules, including those covering H-1B work visas. The rules as drafted would likely tighten quotas, impose heavy limitations on foreign students, eliminate spouses' ability to apply for work, and enact measures curtailing the tech industry's options to attract and keep talent.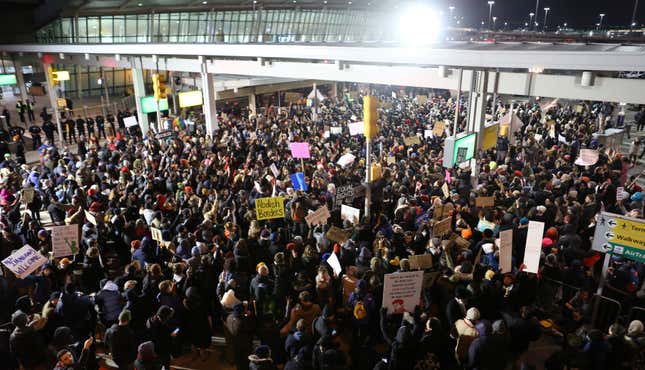 Jon Zieger, general counsel at San Francisco-based payments company Stripe, which was started by two Irish immigrant brothers, warned the measures will shut out the world's best students and engineers from studying at US schools, who might then join or start US companies. "The restrictions on immigration are going to hurt the tech sector and hurt the US economy more broadly," he said in an interview. "Immigration is fundamental to every industry that requires high-skilled and technical labor." 

A fight over H-1B visas
Silicon Valley's anxiety is, in part, a question of supply and demand. Three times more people apply for H-1B visas than is allowed under the annual quota of 85,000 (about half of which go to tech). Even rumors of curtailment of the visa have tanked the stocks of outsourcing firms in India, where most contract workers originate. While the program is criticized for permitting some foreign software developers willing to work for less than US workers, University of California Davis researchers say H-1B workers across all professions generated 10% to 20% in annual productivity growth, adding $615 billion to the US economy between 1990 and 2010.
But tech's reaction is also deeply personal. People born outside the country have founded more than half of America's private start-ups valued at $1 billion dollars or more, according to a report by the National Foundation for American Policy (NFAP) (pdf), a non-partisan think tank. Once companies with immigrants in key management or product roles are included, the share grows to 70% of so-called unicorns as of 2016.
Not coincidentally, the US has awarded more patents to immigrants in the last decade than any other country.
"This Administration wants to gut American immigration history and this starts with potential company founders in Silicon Valley," said Matthew La Corte, an immigration policy analyst at the libertarian think-tank Niskanen Center in Washington, DC. "What we should be doing is spread the H-1B to as many companies as possible to spread the benefits…Why not rely on entrepreneurs who have already proven they can start companies and who can come create jobs."
An expansion the H-1B program looks unlikely to say the least. GOP legislation proposed by senator Ted Cruz of Texas and former Alabama senator and prospective US attorney general Jeff Sessions would essentially end the H-1B program by requiring all applicants to have a PhD, at least ten years of experience, and to receive a minimum salary of $110,000 up from the current $60,000. "Few if any of the billion dollar startup companies with an immigrant founder would have been started in the United States," if this law had been in place, reports the NFAP (pdf).
But legislators in both parties are eagerly introducing reform bills (some far more supportive of H-1B). All remain stalled without White House guidance.
But if Trump's campaign rhetoric and leaked documents send a message to immigrants, that message is clear: Leave. The latest draft executive orders from the White House sketch out a broad reframing of the nation's approach to immigration. While few rules have been formulated, agencies from the State Department to the Department of Homeland Security would be asked to study all costs from immigrants for public services, the potential cost savings and rule changes in the "public interest."
Tech against the president
Silicon Valley companies have already gone to war against Trump's executive orders. "The tech community is powerful," wrote Sam Altman, president of the seed fund Y Combinator, on his blog on Jan 29. "We need to hear from the CEOs clearly and unequivocally."
Amazon CEO Jeff Bezos, who also owns the Washington Post newspaper, and Expedia are filing statements supporting the suit by Washington state's attorney general against Trump's executive order banning refugees. Apple CEO Tim Cook also said he's lobbying "very, very senior people in the White House" to roll back the order in an interview (paywall) with the Wall Street Journal. 
Tesla CEO Elon Musk of Tesla and Uber CEO Travis Kalanick, members of Trump's Strategic & Policy Forum, have vowed on Twitter to take proposals backing immigration to the President. Lyft co-founders John Zimmer and Logan Green pledged $1 million to the American Civil Liberties Union on the company's blog on Jan 29. Airbnb is offering free housing and Uber created a $3 million legal defense fund for drivers with immigration issues.  A host of others including Box, Dropbox, Google, Postmates, Salesforce, Amazon, Apple, Autodesk, and Intel took to Twitter to express their opposition.
Elon Musk, South African, founder of SpaceX, Tesla, PayPal
Romanian Laszlo Bock, Google executive
But critics, including Trump, charge technology executives are less interested in American ideals than in their ability to make outsized returns for themselves and their investors. By importing cheaper labor, companies can depress US wages and reap the profits. "The H-1B program is neither high-skilled nor immigration: These are temporary foreign workers, imported from abroad, for the explicit purpose of substituting for American workers at lower pay," Trump said in March 2016 statement. "I remain totally committed to eliminating rampant, widespread H-1B abuse."
Indeed, several companies including Siemens and Disney have been accused of doing exactly that (despite companies that use it for the intended purpose of recruiting exceptional and hard-to-find workers from doctors to engineers). An investigation by the The Center for Investigative Reporting revealed several cases where cheap, overseas contractors with H-1B visas were used to replace American workers. In a few galling cases, Americans were even asked to train their low-paid replacements from Indian outsourcing firms that now account for the majority of the H-1B visas issued, reports Bloomberg.
The startup visa
That association may doom a second policy welcomed by Silicon Valley, the Obama-era International Entrepreneur Rule, also called the "startup visa." Although scheduled to go into effect this summer, Trump froze its implementation on his first day in office. The rule gives the Department of Homeland Security "parole" authority, typically used for humanitarian relief, to let non-citizens work on their companies in the US for two years and apply for a three-year extension to remain if they can show "potential for rapid business growth and job creation" and secure funding from investors or government entities.
While Trump's draft orders do not single out the Entrepreneur Rule, they would eliminate any use of parole that "circumvents statutory immigration policy," essentially killing it. Other countries are moving in the opposite direction: 13 countries now offer some sort of startup visa, and Canada's tech community is lobbying Prime Minister Justin Trudeau to craft a visa to scoop up talent that the US rejects.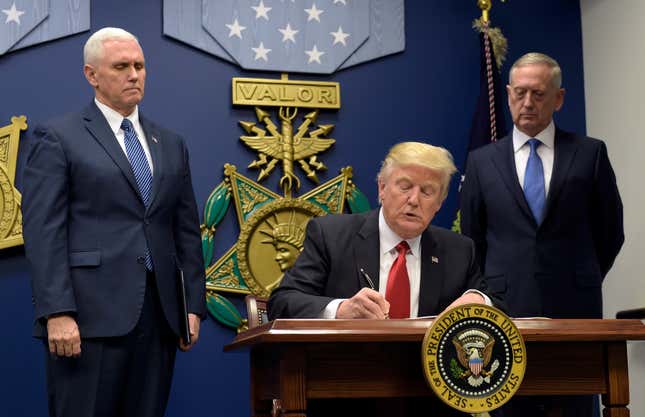 Trump's immigration proposals are only partially achievable by executive order. Congress must cooperate to make any major changes in the H-1B visa program. But if Trump's campaign promises are implemented, the US may ultimately see its economy sputter. Non-partisan, independent scholars who have studied the immigration question for decades have an unequivocal answer: Immigrants are a net win for the US economy, jobs, and wages. Five hundred economists (including five Nobel laureates) wrote former US President George W. Bush in 2005 that "vastly more Americans benefit from the contributions that immigrants make to our economy, including lower consumer prices," despite a small drop in wages for native-born Americans working low-skilled jobs.
While Trump himself is the son of an immigrant (his mother came from Scotland) and two of his three wives were immigrants, Niskanen's La Corte is doubtful that the administration's review of the data will reach a similar conclusion. "We've seen if you want to work for this President, if you don't provide the expected answers, you're out of the job," he said.
Even if the data is on Silicon Valley's side, the populist revolt Trump is leading may sink all immigration, beneficial or not. At its heart, writes David Frum at The Atlantic, immigration is a class dispute. Focusing on the benefits to the "average American" ignores real (if small) harms to some low-skilled Americans and overlooks the fact that the US currently enjoys the lowest workforce participation of working-age American men in recorded history. While America has always been a nation of immigrants, its share of foreign-born citizens in the US stands at the near-record high of 14%, up from the 5% in 1965, says Pew. It's not surprising that voters who elected Trump appear ready to sweep away the relatively welcoming immigration consensus that has prevailed since 1965.
The Valley itself is a poster child for the class divide. The digital economy has built a rapidly stratifying society. Winners (urban, educated and white-collar) are pulling ahead while those outside the radius of America's technological prosperity have seen their prospects and cultural influence fade. Citizens excluded from Silicon Valley's glittering promise may decide that when it comes to immigration, no one deserves those benefits after all.