The US's top immigration enforcement official was abruptly removed from his job late on Monday night (Jan. 30) and replaced with an official who most recently led the agency's efforts to "identify, arrest, detain, and remove illegal aliens."
Daniel Ragsdale, the acting director of US Immigration and Customs Enforcement, was replaced by Thomas D. Homan, according to a statement from US Department of Homeland Security secretary John Kelly. No reason was given for the change.
Ragsdale, a lawyer, had worked for US immigration agencies for 20 years, and at the ICE's headquarters for 11. He provided legal advice to ICE's law enforcement programs before becoming acting director, according to his official bio on the ICE website.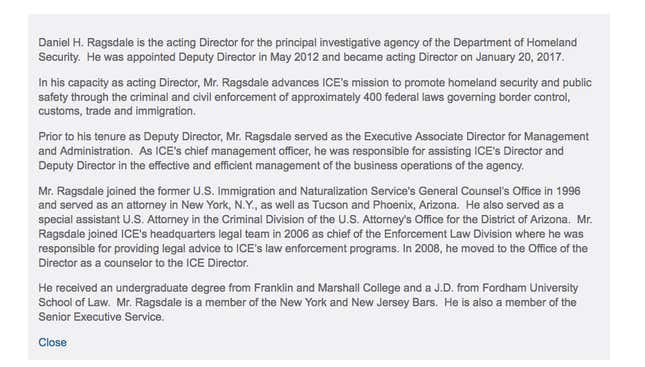 His departure puts the fate of the agency's other acting officials in doubt.

The unexpected upset came just hours after the country's acting attorney general, Sally Yates, was removed from her job for refusing to enforce president Donald Trump's controversial immigration order, a measure which critics say amounts to an unconstitutional ban on Muslims. In a statement posted on Facebook late on Monday, Trump said that Yates had "betrayed the Department of Justice by refusing to enforce a legal order designed to protect the citizens of the United States."
Homan, a former New York City police officer and border patrol agent, was named the assistant director for enforcement in ICE's "removal operations" in 2009. Last year he testified to the US Senate about "Secure Communities," and the need to "bring back non-compliant jurisdictions as partners," and improve cooperation with state and local agencies that refused to work with the ICE.
The one-two firing raised concerns among some civil servants in the immigration office that the Trump administration is sending a strong no-compromise message to his growing critics on Capitol Hill and among federal government employees—if you don't cooperate, your job is at risk.