The January premiere of the newest season of The Bachelor—the twenty-first for the ABC ratings hit—got off to a more awkward start than usual.
When the 30 women contestants arrived to greet the smiling young bachelor, Nick Viall, the mostly floor-skimming dresses they wore showed an alarming preponderance of red. Mostly it was a bright rose red, but there were also a few in a deeper cherry or crimson. While hardly a cause for panic in most situations, on The Bachelor it stirred anxiety and became a talking point on the episode.
But the similarity among the contestants' dresses wasn't really so surprising. Particularly during the big rose ceremonies, the elimination events in which the show's lead hands out roses to the women he will keep another round, the gowns the women wear—and they are pretty much always gowns—might vary in their color and details, but they are all figuratively cut from the same cloth.
Body-hugging, usually one solid color, and conventional in design, they suggest an adult version of prom, and help play out a limited, conservative view of femininity that casts women as part sex object, part princess in The Bachelor's addictive and regressive fantasy-reality welter.
At this point, 21 seasons in, The Bachelor style is pretty much codified, even though the contestants mostly dress themselves. Producers only approve dresses on the first night, according to a former cast member who spoke with Fashionista, or occasionally tell women if something looks bad on camera. (Solid colors are a safe bet, which is why they're so common.)
The women are costuming themselves for a quite specific role on the romance-themed television show, says Laura Grindstaff, a professor of sociology at the University of California-Davis and an expert on gender roles in media and popular culture. "They're all being informed by a similar cultural sensibility of what it means to perform a sexy yet respectable young woman," she says. And that role, Grindstaff points out, is "a particularly narrow vision of femininity."
It is remarkable how uniform the women can look in a scenario where cast members, who vary at least slightly in age, race or ethnicity, and background, will otherwise resort to all sorts of displays to stand out. The cast members are always thin, usually with long hair done in a similar style, and plenty of makeup.
The show has also drawn criticism for being overwhelmingly white, though it just announced it's first black lead on The Bachelorette, in which a woman selects from a group of male suiters. Fashion gimmicks, including a shark suit recently (in the back row of the image at the top of this post), do pop up, but you're more likely to see a woman in trousers on a Hollywood red carpet.
"I think people have watched the show before," says Emma Gray, executive women's editor at The Huffington Post and host of a podcast about The Bachelor and its spin-offs. "So you tend to have people dressed similarly, in a similar vibe to what they've seen before."
Caila Quinn, who made it to the top three on season 20, told Fashionista that she shopped with clear intentions for her stint on the show. "I looked for things that showed skin on some part of the body, whether it's the legs or the cleavage," she explained. "It's a flirty moment, and it's just that kind of show."
Gray calls the style "prom-dress chic," and adds that "there's an element of traditional fairytale and fantasy, but it's also a little bit reality-TV gaudy." Cast members spend a large portion of their time in bikinis. (The men's equivalent plays out on The Bachelorette, where the men are often in similar-looking suits or in swim trunks and a tank top or no shirt.)
"Flirty" might be a good word to describe the show's style. It's sexy, but without giving away too much—it's the promise of sex. Censors sometimes have to blur parts of the women that are a little too bare, and number of exposed sternums at every rose ceremony feels like it grows each season. (The Bachelor did not reply to our requests for comment.)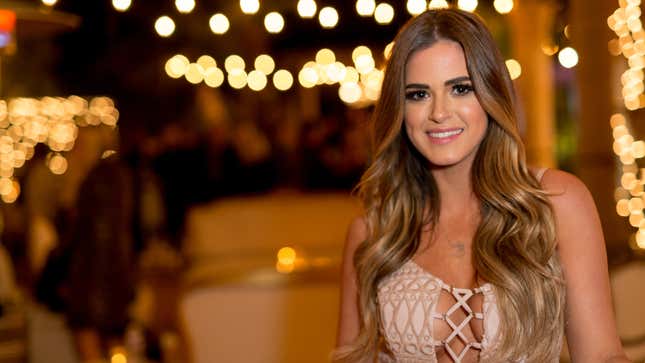 The women sometimes spend huge sums of money to look the part. They are appearing on national television, after all, and often use that opportunity to boost their profiles for other ventures. Jillian Harris, who was on the show in 2009, revealed on her blog last year that she re-mortgaged her house and spent somewhere around $8,000 on clothes. Other women are rumored to have spent far more, or even cashed out their 401k savings to pay for their wardrobes. The only clothes that the show provides are the two gowns the final two contestants wear in the finale, and a few items, such as swimsuits, in a goodie bag each contestant gets.
Despite the name, reality television is by no means a mirror held up to the world. Grindstaff, who has made a study of the genre, says The Bachelor has created certain familiar characters and narrative arcs that repeat season after season. And those also shape the world outside its flatteringly lit mansions: The show now has more than 7 million viewers, including many who are inevitably taking style and personal cues from it—and may find themselves shelling out for a new gown to wear for some upcoming occasion.
What viewers are absorbing are "long-standing cultural tropes about what gender difference looks like and how men and women interact with each other," Grindstaff says. The show effectively erases people's professional lives from consideration, as well as sensitive topics such as religion and politics. What remains are sanitized interactions based largely on appearance and sexuality, qualities that are framed as the true cornerstone of a satisfying relationship, and ultimately, marriage.
Plenty of viewers are savvy enough to recognize how regressive the whole thing is, and in fact, that's part of the reason some feminists get such a kick out of The Bachelor.
Of course the clothes are a part of the fun, too, a performance in themselves. But they should be viewed with the same skepticism as the show's funhouse-mirror view of relationships.