When Snap, the parent company of Snapchat, revealed its paperwork to become a public company, it provided a detailed breakdown of how Snapchat actually works—something that users have wanted for years, as critics have decried how difficult they have found the app's minimalist interface.
Here's how Snap's filing with the US Securities and Exchange Commission describes Snapchat: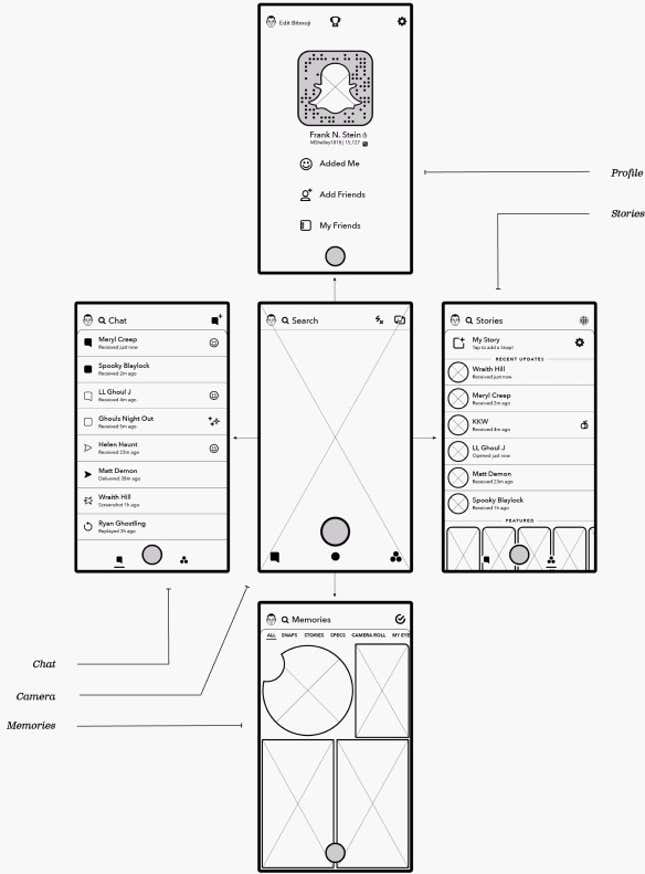 Snap outlines the four main screens of Snapchat—the camera, the stories screen, the settings page, the chat page, and the memories page, where every snap you have taken, and the photos on your phone—live. To access those pages, just swipe on the direction they're in on this diagram.
The filing then describes what all the icons on every screen mean: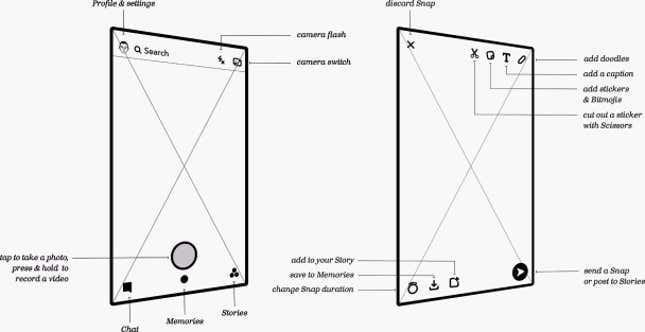 The first slide shows all the different buttons available when taking a snap, including the big circle (which you press to take a photo, and hold to take a video), and the buttons to access the other screens of the app. It also shows the settings available after you've taken a snap, including how long you want the snap to be visible for (up to 10 seconds), if you want to save the snap to your phone, and who you want to sent it to. It also shows you the tools for editing the snap—more on that below: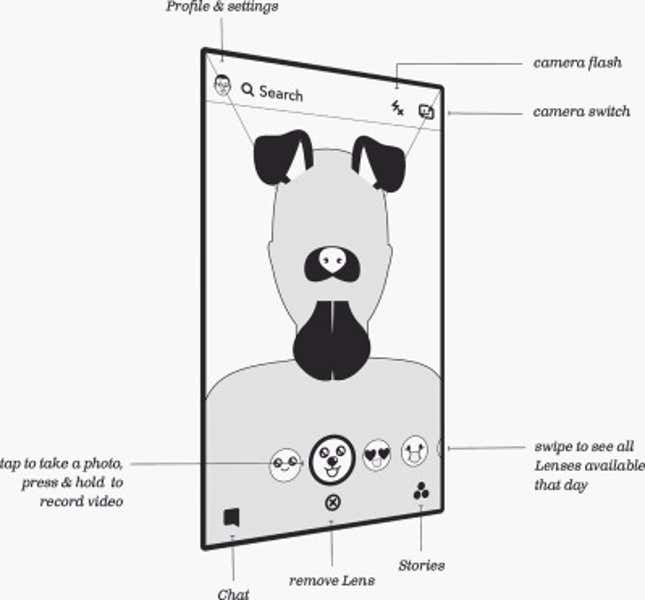 Snapchat allows you to add filters, called lenses, to your face—here represented by arguably Snapchat's most popular filter, one that turns you into a human-shaped dog—and this shows you have to scroll through all the different, zany, filters that Snapchat provides, and changes on a daily basis.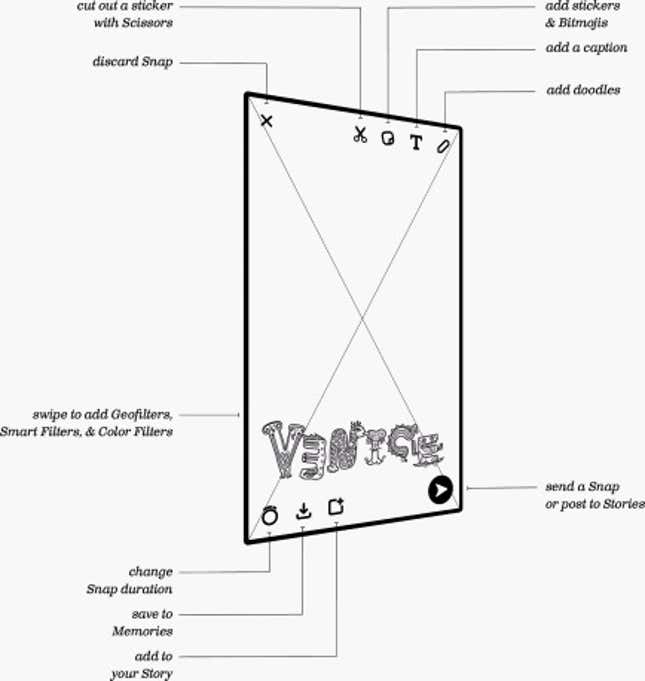 The app also has what are called "geofilters," which are similar to lenses, but generally provide a static image based on wherever you are. In the filing, Snap used one of the original geofilters it created, for Venice Beach, California, where it is headquartered.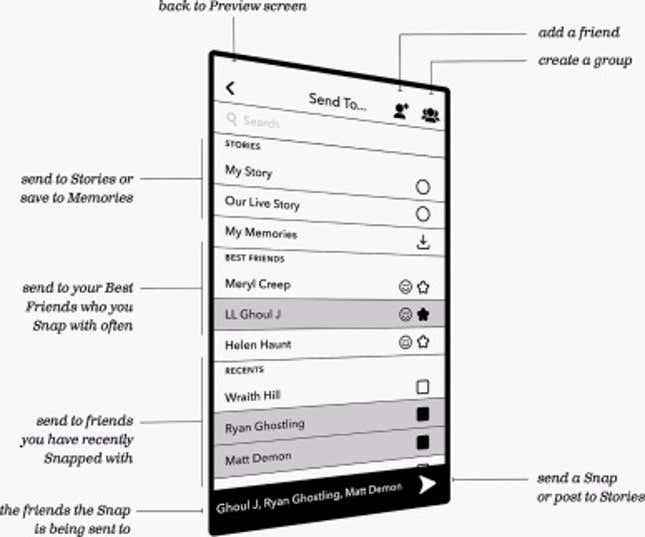 This screen shows how you send a snap to your contacts. You can either share to individuals, to groups, or add it to your story, which is a daily collection of your public snaps that disappear after 24 hours. Think of it like Snapchat's version of your Facebook wall, if that deleted itself every day.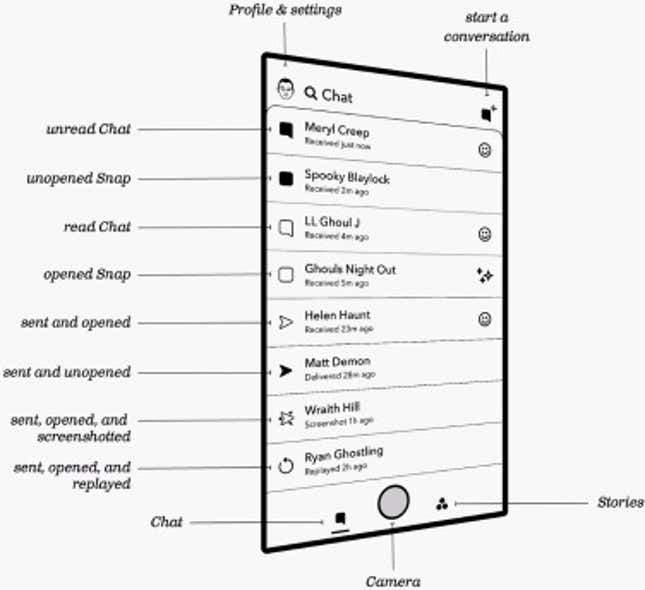 This is the chat screen, that shows who you've interacted with, either by sending them snaps, becoming friends with them, or receiving snaps from them. If you swipe right on an individual's name, you can start chatting with them, like you would on WhatsApp or Facebook Messenger—except, as with everything else on Snapchat, the messages disappear when you leave the chat.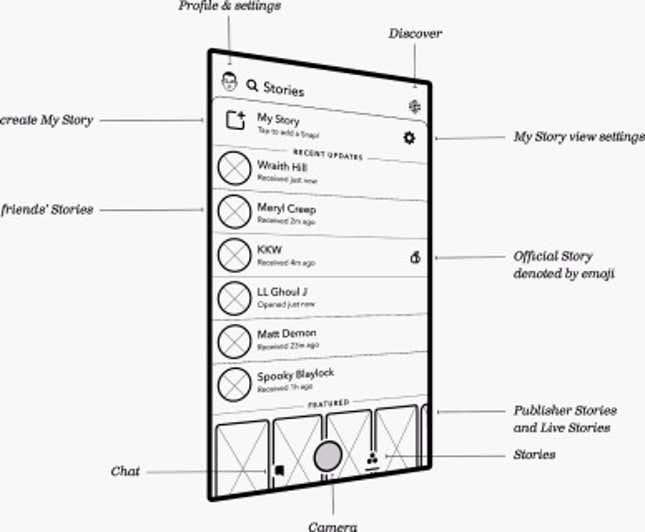 This screen shows the stories of people you follow, as well as snaps from media outlets that provide original content to Snapchat.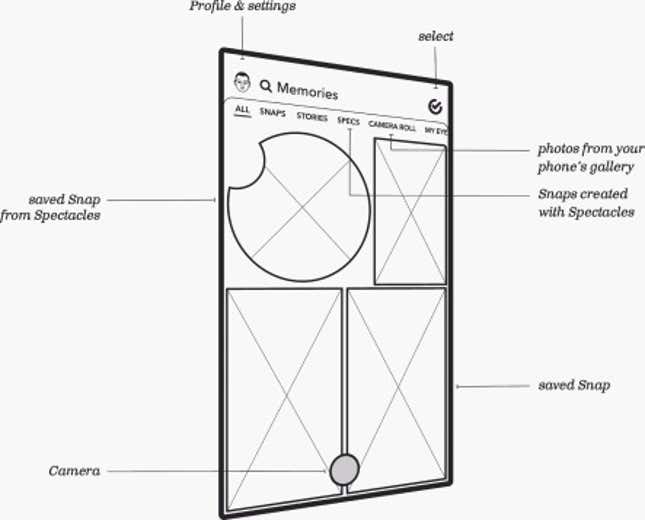 This last screen, called memories, is where all your snaps that you've ever shot live. You can edit and resend them as often as you like. This screen also has access to all the photos on your phone, so if you want to upload something you shot outside of Snapchat to the app, you can scroll over to "Camera Roll" and do that. In addition, this section has access to any photos taken on a pair of Snap Spectacles, the video-taking glasses that Snap unveiled in August.
And that's pretty much it. Buried away in Snap's long regulatory document is a simple overview of the company's main product that it has never really provided to its users before.