A poignant political protest is taking place on the walls of the Museum of Modern Art in New York City. The museum, located just two blocks from Trump Tower in midtown Manhattan, transformed its galleries overnight and hung works by artists from the Muslim-majority countries affected by president Donald Trump's travel ban.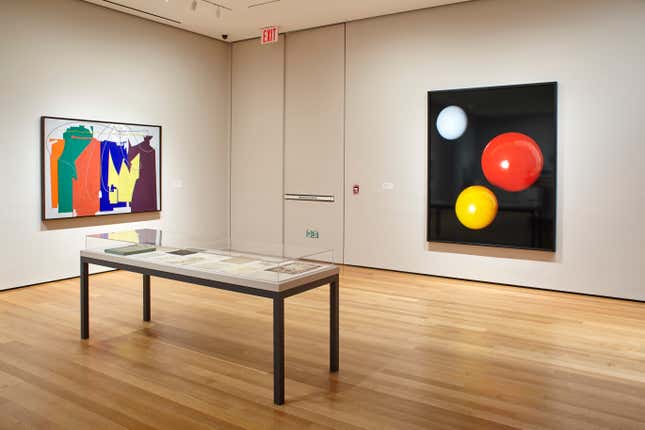 The New York Times reports that on the evening of Feb. 2, seven works by Iranian- and Sudanese-born artists, including a painting by the late architect Zaha Hadid, were installed on the fifth floor. A towering steel and aluminum sculpture by Iranian artist Siah Armajani was placed in the lobby. The wall text next to each work makes explicit the 87-year old institution's position.
This work is by an artist from a nation whose citizens are being denied entry into the United States, according to a presidential executive order issued on Jan. 27, 2017. This is one of several such artworks from the Museum's collection installed throughout the fifth-floor galleries to affirm the ideals of welcome and freedom as vital to this Museum as they are to the United States.
Christophe Cherix, MoMA's chief curator of drawings and prints explains that all the museum's curators were engaged in planning the protest. Over the next few months, they plan to showcase more paintings, sculpture, photographs, drawings, and films by artists from Syria, Iran, Iraq, Yemen, Somalia, Sudan and Libya, says Cherix. "A number of artists in our collection suddenly couldn't travel the way they used to and share their work and ideas. We wanted to reaffirm that belief that art [museums] should a place where people from all over the world can gather," he says.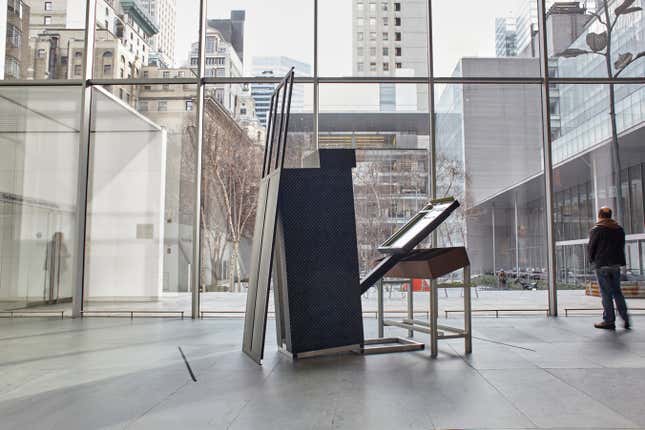 To make room, MoMA had to take down works by Pablo Picasso, Henri Matisse, Francis Picabia, Oskar Kokoschka, James Ensor, and futurist sculptor Umberto Boccioni. Cherix explains that the decision about what works to swap out came down to a matter of space. "We wanted the art to look really good, it's a competitive place, so many masterpieces," he says. He adds that the those artists are still represented somewhere in the museum. For instance, over 200 works by Picabia, a French-Cuban Dada artist, currently occupy MoMA's sixth floor.
Cherix promises that popular paintings such as Van Gogh's Starry Night, Picasso's Les Demoiselles d'Avignon, and Matisse's Red Studio will remain in place, knowing that many art lovers make pilgrimages to MoMA to encounter these masterpieces. "The last thing we want is to disappoint people," he says. "The idea was to find an inclusive gesture."