Takashi Murakami knows how to make an entrance.
At a Feb. 3 press event for his upcoming retrospective at the Museum of Contemporary Art (MCA) in Chicago, the 55-year-old Japanese artist burst into the stage wearing a trippy, head-to-toe octopus costume. Before sitting for an interview with the exhibit's curator, Michael Darling, Murakami twirled to show off the exquisite bedazzled ensemble—loose pants, silver shoes, and iridescent blue shirt under a psychedelic, tentacle-printed blazer topped with a furry helmet in the shape of the bulbous mollusk.
"For the past few years, I wear a very odd suit because my communication in English is not good," explained Murakami, who is soft-spoken and genial in person. "This is my negative point and I want to cover for that."
Collaborating with his stylist, Kazuki Yunoki, Murakami has showed up to Art Basel Miami dressed as a flower ball, paraded in an electric green onesie at the 2010 Macy's Thanksgiving Parade, donned a jellyfish hat to promote his 2013 movie Jellyfish Eyes, and dazzled in a colorful suit after his famous Mr. DOB character for a gathering of sneaker heads in California last November.
But his odd suits are more than diversionary tactics. Beneath the campy poses, Murakami uses his costumes as a kind of body armor against the snooty, serious world of Western contemporary art.
His newest costume, for instance, embodies the title of his upcoming career retrospective, The Octopus Eats Its Own Leg, which opens June 6. A translation of the Japanese phrase tako ga jibun no ashi wokurau, Murakami says is a metaphor for how non-Western artists are boxed in quaint niches by art critics. Despite the success of his anime-inspired pieces that fetch millions at auction, Murakami still sees himself as an outsider vying for critical acceptance.
Even with a PhD in traditional Japanese painting, Murakami has been criticized for devoting too much time on high-profile commercial collaborations with pop stars such as Kanye West and Pharrell Williams, and with the fashion house Louis Vuitton. "The best that can be said about Murakami's new work is that he's making pretty money. Or pretty empty money," the art critic Jerry Saltz wrote in a 2007 New York Magazine review.
For the upcoming retrospective, Darling hopes to present a well-rounded picture of Murakami's 30-year career, showcasing his seldom-seen abstract expressionist canvases and Daruma ink paintings alongside the Superflat paintings that have become his signature.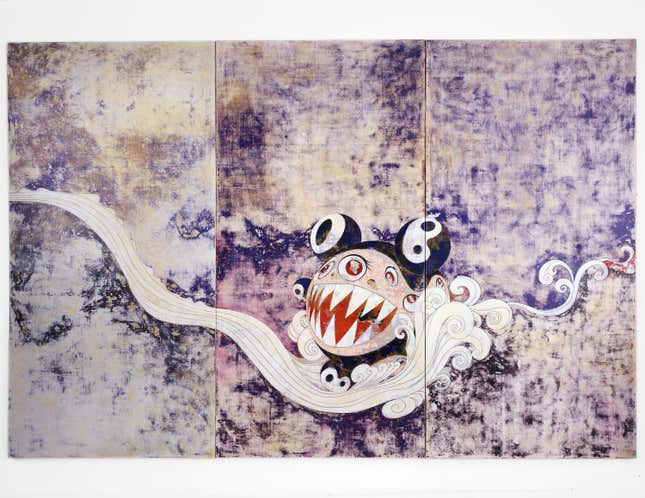 The octopus in the title also offers a a lesson in resilience to struggling artists and other creators: It's sometimes best to cut off dead-end projects and toxic partnerships so new ideas and healthy offshoots can flourish.
"In biological terms," Darling writes, "an octopus will commit this self-cannibalization during times of stress, often if a virus or bacteria is present, but the leg will regenerate and life will go on."