Netflix has Stranger Things, and Amazon has Mozart in the Jungle. But the next binge-worthy television series might come from Facebook.
The social networking giant has hired Mina Lefevre, the former head of scripted development at MTV, to help lead its efforts in original video content. The hire marks yet another sign Facebook is preparing to launch high-quality clips and shows that could pit it against major video streamers like Netflix, YouTube, and Snapchat.
Lefevre announced the news on her personal Facebook page the evening of Feb. 8.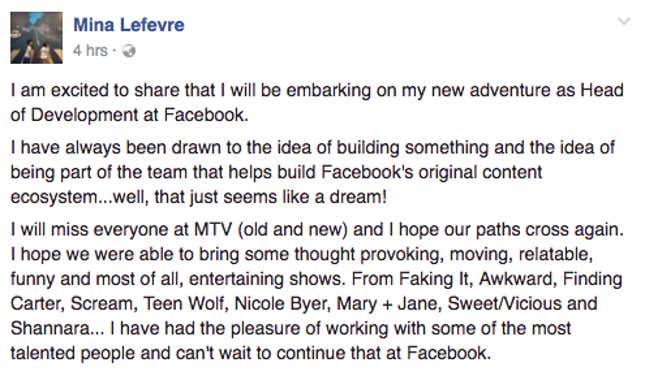 A Facebook spokesperson confirmed the hire to Quartz, adding that Lefevre will help develop both scripted and unscripted content for the company.
Hiring a broadcast television executive might seem unusual for Facebook, but over the past few months the company has given several hints about its plans to bring original video to users. Last week, the Wall Street Journal reported (paywall) that Facebook was developing an app for set-top boxes that would let users watch video from the social network on TVs. The company also confirmed in December that it was in talks with major studios to seek licensing deals for content that would appear in Facebook's video tab—a little-known part of its mobile app that lets users scroll through a feed of streams, most of which are made by users. Those efforts were led by Ricky Van Veen, who Facebook poached from the popular video site College Humor.
Since 2014, CEO Mark Zuckerberg has emphasized the importance of video to the company's future. Yet to date, most of its efforts to ramp up video have centered around getting users to share short clips and encouraging them to broadcast live video. The company has imitated some of Snapchat's features in hopes of getting users to share more videos, and it spent much of 2016 borrowing from Periscope and Meerkat for its own livestreaming features. By poaching an MTV executive, it's possible more cat clips and cooking demos will be replaced with studio-quality videos.