Forget a detective's pipe and magnifying glass—felt-tip pens, a sheet of paper, and keen observational skills were all two children in Germany needed to help police solve a hit-and-run.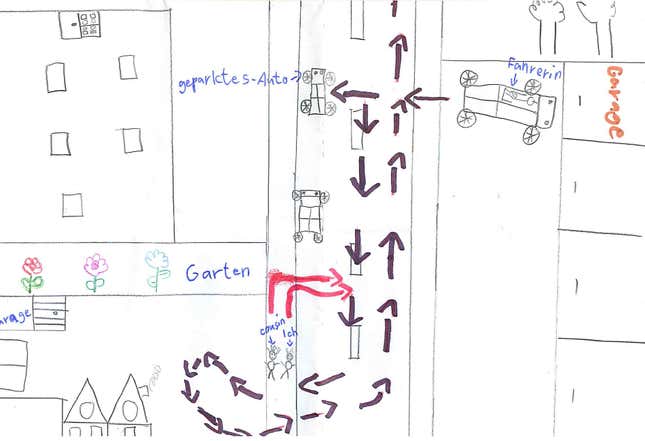 The eight- and nine-year-old boys drew an elaborate map for police of the mid-January incident, which they witnessed on their way home from school in the small town of Oer-Erkenschwick, in Germany's northwest. The map's adorable details include the two children, represented as stick figures labeled "cousin," and "ich," the driver's position, the parked car she allegedly rammed into, and naturally, a nearby garden with some colorful flowers.
They also showed police, using some energetically drawn arrows, how the driver turned around after hitting the car, drove back, and stopped to assess the damage she had caused before driving off. "Through the exact description of the children, the driver could be quickly identified," police said (link in German).
"If I'm being honest, the sketches of my colleagues often don't look better," a police spokesperson told Bild (link in German).