"Photo of the year," the top honor of the prestigious World Press Photo contest has been awarded, and it is an unusual choice: A shockingly clear image of the assassination of Russia's Turkish ambassador Andrei Karlov in Ankara.
Karpov was shot by gunman Mevlut Mert Altintas in December, at a photography exhibit where Altintas reportedly shouted "Do not forget Aleppo!" Although several photographers were at the scene, AP Burhan Ozbilici's image of Altintas shouting with gun in hand quickly became iconic, and was today awarded this year's top recognition.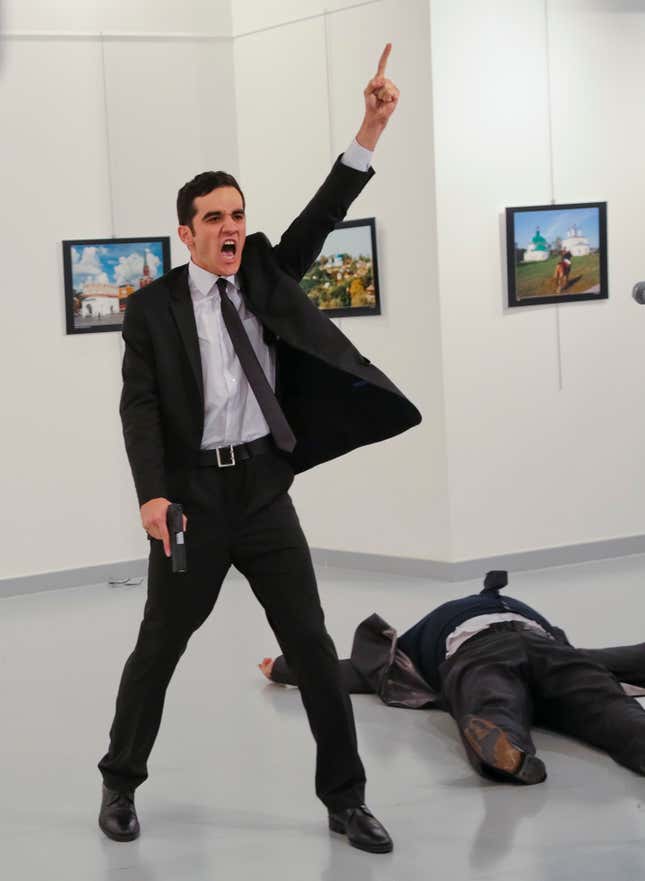 Ozbilici's image is a searing one that became the story from the moment it was transmitted. But it's a strange pick for World Press Photo's greatest prize.
The prize goes to a single picture that sums up a year of news, and winning images have often been "more poetic and open to interpretation," as World Press Photo's managing director Lars Boering noted to the New York Times.
Many past "photos of the year" have been little-known images that reveal the human suffering behind a headline—they rarely spotlight the actual perpetrators of violence. Last year's winner was a dark, grainy photo of a child being passed underneath a barbed wire fence.
Why then, does this year's award go to a strikingly literal image that much of the world has already seen?
As World Press Photo's jury members explain, Ozbilici's picture speaks not just to the incident, but to the larger feeling of a world coming apart. Mary Calvert, a renowned photojournalist and a World Press jurist remarked, "It was a very, very difficult decision, but in the end we felt that the picture of the Year was an explosive image that really spoke to the hatred of our times."
Photojournalist João Silva, another jury member, said:
Right now I see the world marching towards the edge of an abyss . . . I feel that what is happening in Europe, what is happening in America, what is happening in the Far East, Middle East, Syria, and this image to me talks of it. It is the face of hatred.
Noting his dissent on the image, jury chair Stuart Franklin wrote in the Guardian:
It's a photograph of a murder, the killer and the slain, both seen in the same picture, and morally as problematic to publish as a terrorist beheading.
Unlike the assassination of Archduke Ferdinand in Sarajevo in 1914, the crime had limited political consequences. Placing the photograph on this high pedestal is an invitation to those contemplating such staged spectaculars: it reaffirms the compact between martyrdom and publicity.
World Press Photo has in the past succeeded in championing pictures that add humanity and context to the most charged topics. But this year, its controversial choice highlights chaos, and feeling of immediate threat. Pushed, perhaps, by a widespread sense of growing angst in the world, this year's jury has exceptionally opted not to examine global conflict from a safe distance, but to confront it head on.