Craft marketplace Etsy has dominated the handmade goods e-commerce space for more than a decade, batting off attempts by competitors, including Amazon, to replicate its success. Now, in its third year as a public company, it is taking on major players in the craft supplies space with "Etsy Studio," its first new marketplace since the launch of Etsy.com in 2005.
The US creative products industry is worth around $43 billion, and more than 60% of Americans households participated in some kind of craft activity in the last year, according to the Association for Creative Industries. But big-box craft supply stores like Michaels have been hurt by aggressive discounting (paywall) across the industry. Freed up from the constraints of retail space, Etsy Studio will launch with eight million craft supply items, compared to the 40,000 items typically carried by brick-and-mortar craft retailers, the company says. It also plans to appeal to conscientious artisans with detailed information on products, including where they were made, and by who.
The Studio's website will also provide original online tutorials for DIY-enthusiasts—alongside the supplies required for the project, of course.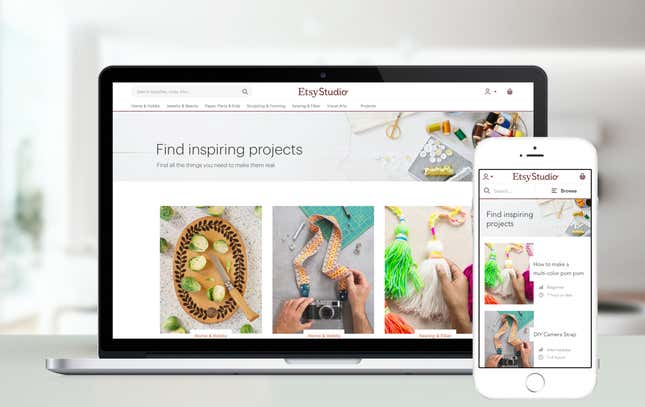 Announcing the marketplace at Etsy's new Brooklyn headquarters yesterday, CEO Chad Dickerson drew a parallel between Etsy Studio and the creation of Apple's App Store. "Apple removed the biggest barriers to entry and a whole new category of software was created," Dickerson said. "What Apple did for independent developers, Etsy is doing for creative entrepreneurs."
Etsy suppliers will get early access to Studio so they can cross-list their Etsy.com products ahead of Studio's public launch in April.
Etsy yesterday also unveiled Shop Manager, a dashboard that brings together inventory, marketing, payments, shipping, and other types of services for sellers. The company made some notable investments in seller services last year, including developing the multiple payment service Direct Checkout, rolling out Google Shopping, and acquiring the artificial intelligence search startup Blackbird Technologies. Seller services made up more than 50% of Etsy's third-quarter revenue last year, up 50% from the previous year.
The company also announced several rollouts for Etsy.com, including more filters to help buyers refine their searches, a new guest checkout option allowing shoppers to make purchases without creating an account, and clearer policies on what makes a product "handmade."