In May, the UK's service sector saw its fastest pickup in new business in more than three years, based on the purchasing managers' index. This is the fifth straight month of growth in the UK's service sector, which makes up around three-quarters of its economy. That puts the UK's GDP on track to hit 0.5% growth in the second quarter (pdf), says Chris Williamson, the chief economist at Markit, which compiles and analyzes the survey.
"The UK economy has moved up a gear with all cylinders now firing. For the first time in a year, manufacturing, services and construction sectors are all now reporting higher levels of activity," Williamson says. "There's good reason to believe growth can accelerate further." Here's a look at the trend: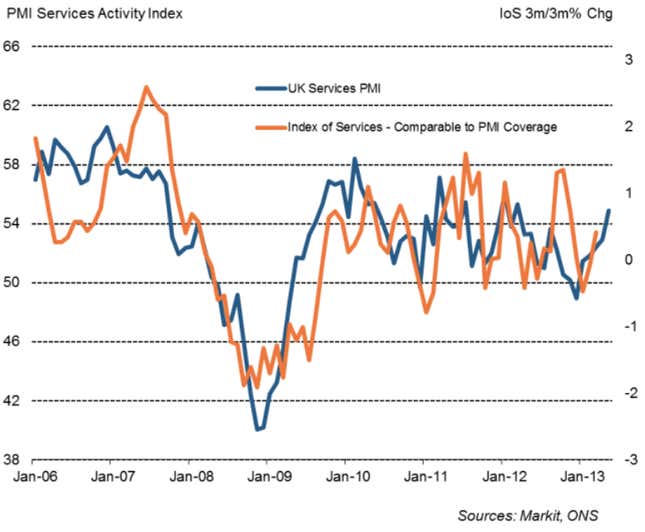 The outlook isn't all rosy. Service-sector output prices fell in May, after having risen for the last eight months, reflecting persistent softness in demand. Also, only 46% of survey respondents said they expected an increase in business activity a year from now.
Still, new business grew at its fastest rate since February 2010. And work backlogs increased for two consecutive months—the first time that's happened since September 2007—prompting firms to begin hiring again.
Employment also picked up in manufacturing, which hit a 14-month high in business activity in May. Here's a look at that (pdf):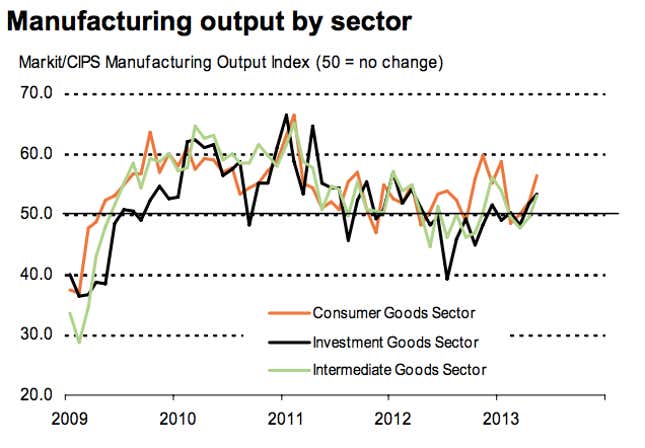 Buoyed by a sharp upturn in residential housing, construction output rose for the first time since October (pdf):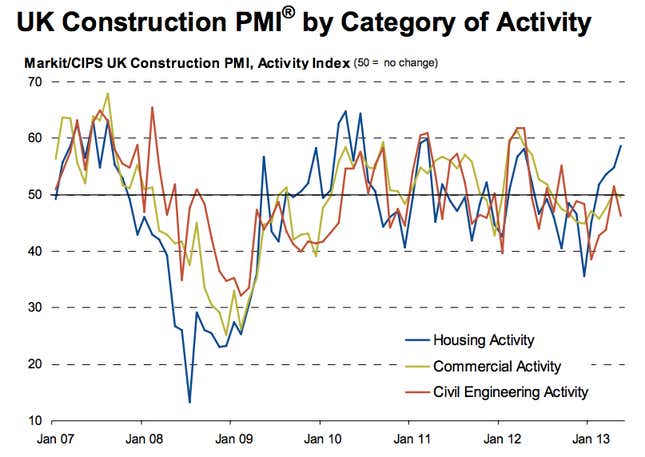 The positive outlook makes it less likely that the Bank of England will vote in favor of monetary stimulus when it next meets. Also, when the new BOE governor, Mark Carney, takes over, he'll be overseeing an economy that is, as Markit's Williamson puts it, "already showing signs of acquiring 'escape velocity' from the doldrums."