Kara Swisher of AllThingsD has just made a convincing case that Yahoo is at least thinking about acquiring Foursquare, the location-based social network. Swisher has her own reasons for believing a deal could at least be on the table—including the fact that Yahoo CEO Marissa Mayer is such a big fan of Foursquare that she tried to acquire it when she was at Google.
If a deal is ever announced, we're unlikely to know Mayer's logic until 20 years hence, when her autobiography is climbing the charts of Google-Glass-based vooks. But say you could be a fly on the wall of Yahoo's boardroom. Here's what Mayer's personal checklist for whether or not to acquire a company might look like.
1. Millennials? Check
The stereotypical Foursquare user is a tech-forward 20-something who wants to retake his or her crown as "mayor" (i.e., most frequent visitor) of the local artisanal coffee shop. At least one analysis pegs Foursquare's biggest fans as, instead, women between the age of 35 and 44—but whatever, it's perception that counts.
2. Makes no money? Check
Foursquare is not public about its financials, but it appears that, like Yahoo's most recent acquisition, Tumblr, it basically doesn't make money.
3. Mobile focus? Check
Like every other web service on the planet, Yahoo is going mobile. Acquisitions completed in the past year include mobile gaming studio Loki and to-do app Astrid, and Tumblr has been doing well enough on mobile devices that the site introduced mobile ads just before Yahoo's acquisition. Foursquare is even better: it wouldn't exist without mobile phones that can work out where they are on a map.
4. Nerdy, twee, hoodie-wearing male founder? Check
Sure, this is true of most tech startups, but just look at these two.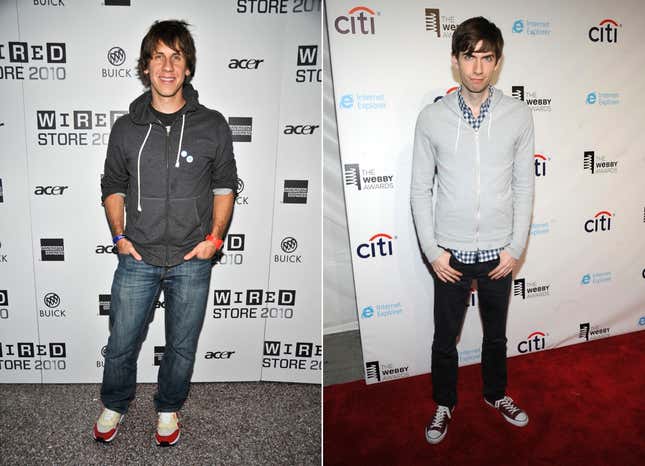 5. Could the company actually make money under Yahoo? Check
Like Tumblr's rabid fan base, Foursquare has something going for it that makes it uniquely valuable. That's its location data, which it shares with companies like Instagram and sells to various advertisers. While Yahoo's approach to making Tumblr pay for itself is to load the site up with ads, the approach would probably be different with Foursquare, which only has 33 million users. Yahoo could use Foursquare's technology and data to beef up its web search, by offering people search results based on where they are. Or maybe Yahoo could just make Foursquare profitable through ads, since Yahoo, being bigger, can more easily negotiate deals with advertisers.
Using this checklist, it should be possible to figure out some other companies Yahoo might acquire. Social question-answering service Quora is another site that makes no money and has suitably twee founders, and it's been at least two years since they declared that the site is not for sale. The difference, of course, is that Foursquare has taken on more than $112 million in funding including $41 million of debt, and without significant revenue in sight, needs to find an exit. (Quora has taken on $61 million in funding but, being a younger company, doesn't appear to be experiencing the same pressures as Foursquare—yet.) Considering Yahoo's acquisition spree, Swisher is justified in speculating that it could be the buyer.