To compete with internet companies, Vimpelcom—the world's sixth largest telco—is hoping to become one.
On Feb. 27, Vimpelcom rebranded itself as Veon, already the name of its digital messaging app. The revamped company is offering "zero-rated" voice and data services—i.e. free for Vimpelcom customers—and has already teamed up with MasterCard, short series platform Studio+, music-streaming service Deezer; and will.i.am's wearables company, i.am+. The goal? Transform an enormous traditional telco (Vimpelcom is the top provider in Italy, and the third largest in Russia) into a tech company that can compete in emerging markets, where mobile users often opt for free internet offered by Google and Facebook. It's a pivot that other telcos will be watching closely.
"Just being a performing telco operator was not a sustainable strategy," Vimpelcom CEO Jean-Yves Charlier told Quartz. "Tech companies have been capturing the growth linked to digital mobile lifestyles."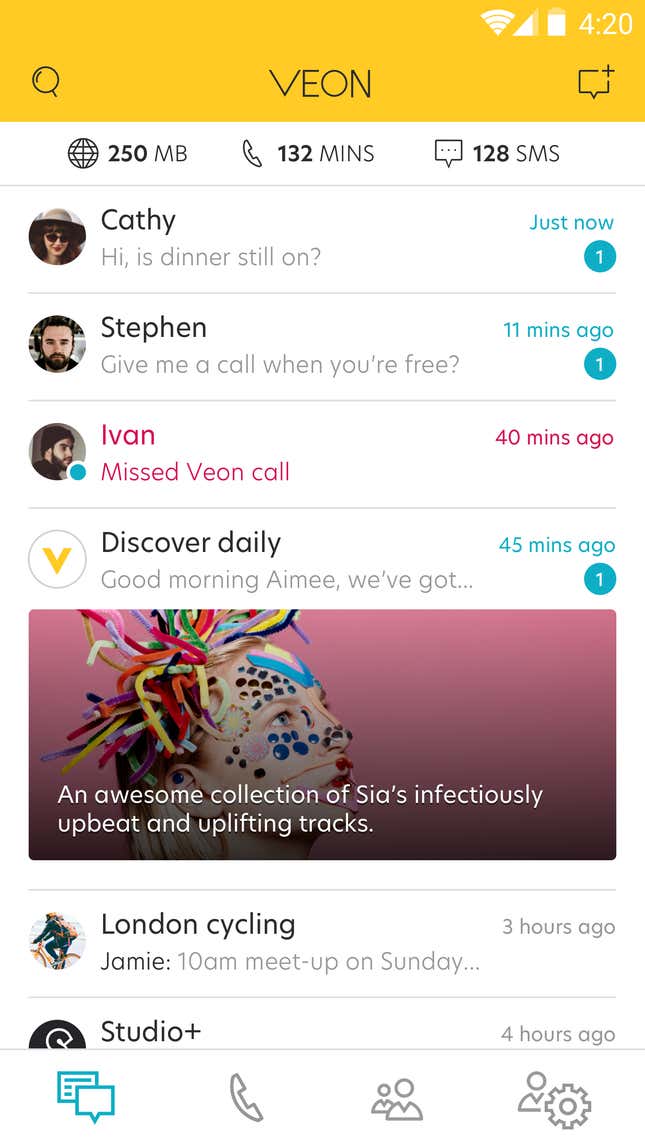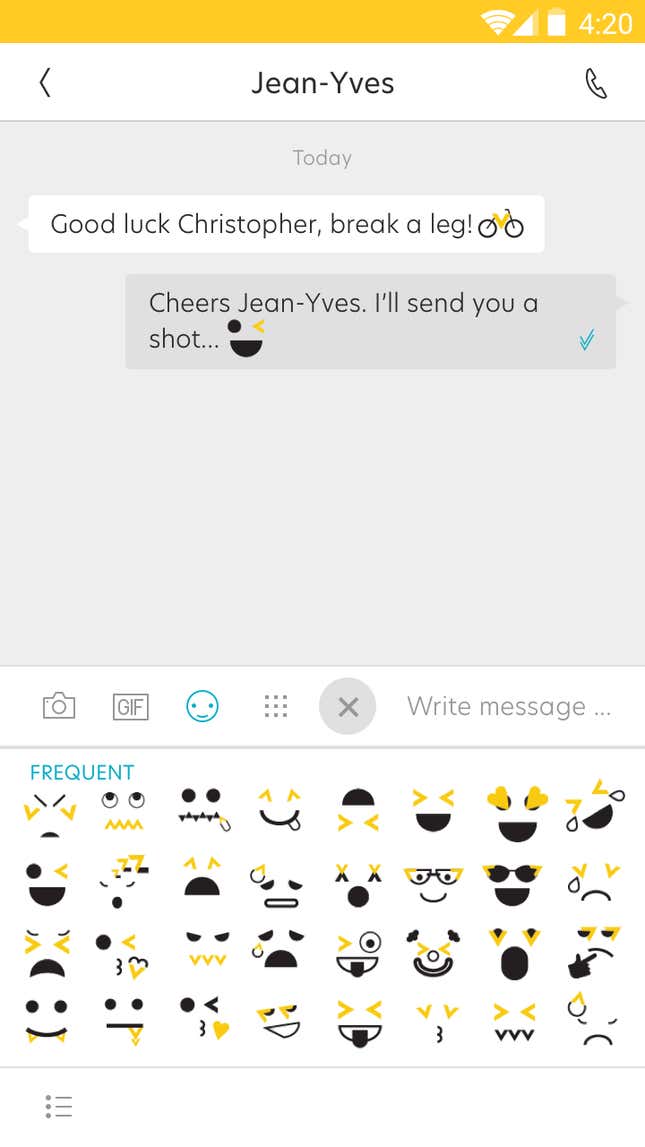 Veon née Vimpelcom isn't the first company to experiment with zero-rating, or the first telco to adjust its identity. Norway-based Telenor, another emerging-markets operator, is collaborating with industry leaders, academia, and startups on a foray into data analytics, machine learning, and artificial intelligence. Megafon, one of Russia's biggest network providers, bought a majority stake in sister company Mail.ru, giving it control over Russia's Facebook equivalent, VKontakte. In 2014, Vodafone bet on non-cellular growth by buying Italian connected-car company Cobra Automotive.
"Regulatory and pricing pressure on telecom operators forces them to look to adjacent areas for new sources of revenue and margins," Tom Levine, at attorney at Allen & Overy's global telecoms practice, told Reuters. "There isn't a consensus on how to do this."
Zero-rating is one way, albeit somewhat controversial. On the one hand, "free" services help bring internet access to billions of users who might not yet have it. But the practice has also been decried as a foil to net neutrality. Facebook's free internet service, for example, was ultimately killed in India because it offered just a handful of cherry-picked services. Veon plans to avoid that critique by making its platform available to all.
"Who are we to choose?" says chief digital officer Christopher Schlaeffer. "The consumer has to choose." 
Data first
For Vimpelcom, the first step to becoming a successful tech firm is consolidating an enormous amount of user data—the company has more than 235 million customers—into a centralized system.
"Telcos have wealth of data on consumers," Charlier says, but "that data sits in multiple databases and is not easily accessible." A central data repository will help advertisers target customers, and customers make decisions. Veon, for example, might recommend a taxi service, or a restaurant booking, to someone messaging their friend about dinner plans. (The company says it will not share personal data with third parties without user consent.)
"For people who are not literate, these services emerge somewhat magically into a dialogue," Schlaeffer says. He gives another example of how a central dataset might be useful for companies: "We have location data. We would know that in London, a football match ends at 10pm. Out of 50,000 [attendees], over 11,000 have the Uber app installed. We provide that data to partners, help them enrich and better their services."
Charlier also anticipates Veon being used to foster relationships between customers and stores that might preclude brick-and-mortar visits.
New skills
While competing against tech companies is crucial for telcos looking to stay relevant (and profitable) in a world dominated by internet services, the transformation won't be easy. Many telecom firms are "huge organizations that have traditionally moved very slowly," according to a report (pdf) from PricewaterhouseCoopers. "That has to change quickly if they are to assert their rightful place in the coming digital telecom ecosystem." That change will become even more important as Internet of Things (IoT) devices, which rely on wifi or data, continue to gain popularity.
Indeed, the pivot will affect more than just customers: Employees will also have to adjust. At Vimpelcom, Charlier says that more than half of the company's staff have a background in tech and will be solely focused on digital initiatives. During a panel at the Mobile World Conference in Barcelona on Monday, Vimpelcom chief technology officer Yogesh Malik (previously of Telenor) also spoke to that paradigm shift.
"Skill sets needs to change," he said. "It needs to be a software skill set. If we are just going to do vendor management, I don't think we are a tech company."