Forget Lego Batman. The best new minifigures of 2017 are female NASA heroes.
On Tuesday (Feb. 28), Lego announced it would soon release a set of minifigures of five pioneering female scientists whose contribution to NASA has largely been underappreciated. It includes NASA mathematician and space scientist Katherine Johnson, 98, who is best known for calculating and verifying trajectories for the Mercury and Apollo programs and was recently celebrated in the Oscar-nominated film Hidden Figures.
The others are:
computer scientist Margaret Hamilton, 80, who worked on the onboard flight software for the Apollo missions
astronaut and physician Mae Jemison, 60, who became the first African-American woman in space in a 1992 mission aboard the space shuttle Endeavour
astronomer Nancy Grace Roman, 91, known as the "Mother of Hubble" for her role in planning the Hubble Space Telescope
the late Sally Ride, the first American woman in space in 1983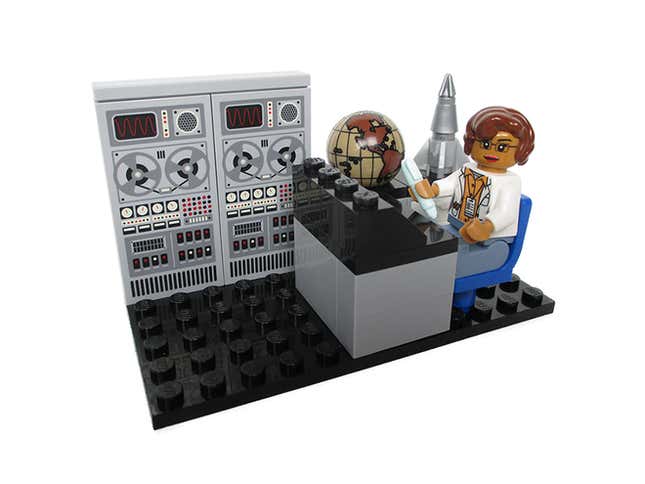 The idea was proposed by Maia Weinstock, a science writer and deputy editor at MIT News, through the Lego Ideas program that solicits fun suggestions for new toy figures. Weinstock's idea received 10,000 votes of support on the site, beating out out 11 other entrants including a Star Wars Landspeeder. Lego is working on the final design and pricing for the Women of NASA set, and said the official release date would be announced in late 2017 or early 2018.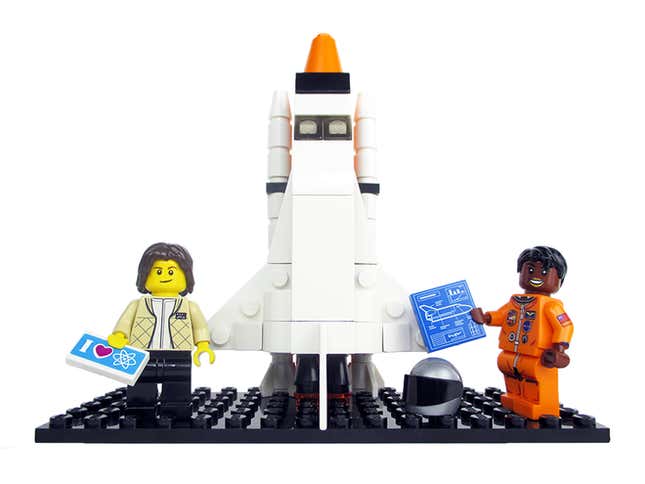 The new Lego figures could be a novel way to give young girls role models in the STEM (science, technology, engineering and mathematics) fields, which have traditionally not attracted or retained young women. Women are less likely than men to study STEM subjects in college and graduate school, and only 26% of the women who do get degrees in STEM fields work in STEM careers.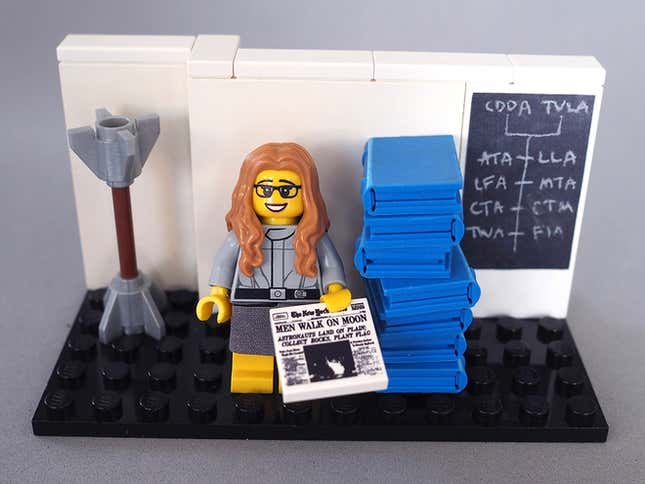 On Tuesday, US president Donald Trump signed two bills aimed at encouraging women to build careers in STEM fields, posing with the sponsors of the bill along with his daughter Ivanka, who has been pushing for her father to support women in the workplace. One, the Inspiring the Next Space Pioneers, Innovators, Researchers, and Explorers (INSPIRE) Women Act, directs NASA to encourage women and girls to study in STEM fields and pursue careers in aerospace. The bill gives NASA three months to submit a plan to Congress for how the agency can extend its outreach to K-12 female STEM students, specifically through current and retired astronauts, scientists, engineers, and innovators.
The other new bill, the Promoting Women in Entrepreneurship Act, authorizes the National Science Foundation to "encourage its entrepreneurial programs to recruit and support women to extend their focus beyond the laboratory and into the commercial world."
While the bills have been criticized as being vague and largely symbolic, they are a step in the right direction.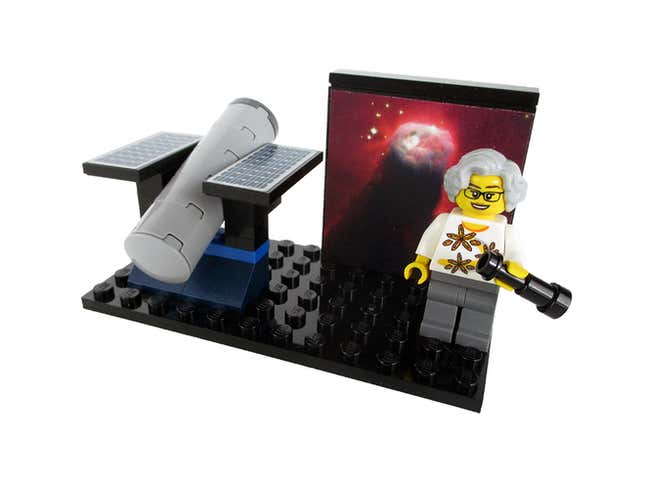 Lego has been pretty ahead of the curve when it comes to providing young children the opportunity to see themselves as anything they want, no matter their gender: a 1974 pamphlet from Lego reads, "The urge to create is equally strong in all child. Boys and girls. It's imagination that counts…A lot of boys like dollhouses, they're more human than spaceships. A lot of girls prefer spaceships. They're more exciting than dollhouses."