Taipei, Taiwan
Most statues of authoritarian rulers eventually have their day of reckoning. In Taiwan, the largest one of former dictator Chiang Kai-shek may see that day soon.
Last week Taiwan's culture ministry announced plans to repurpose the Chiang Kai-shek Memorial Hall, one of Taipei's top tourist attractions, in a project could entail the removal of a massive bronze statue of Chiang. And the hall, it said, will stop selling Chiang-themed merchandise.
The memorial hall isn't alone. Chiang's presence is being steadily removed from public spaces across Taiwan, feeding into a larger public debate about Taiwan's identity and "Chinese-ness." Chiang used education and propaganda to create a Chinese identity here, while also trying to erase 50 years of Japanese colonial rule and tamp down the local indigenous culture. But that identity has steadily faded since the arrival of democracy in the 1990s, and a new identity unique to Taiwan has begun to emerge.
Beijing, which clings to the view that Taiwan is part of China, hasn't failed to notice. "By removing Chiang's name from national memorials and monuments… China believes Taiwan is consolidating Taiwanese identity—one centered on the unique experiences of those on the island and separate from China," said Jessica Drun, a fellow at the National Bureau of Asian Research in Washington, DC.
The White Terror
The legacy of US ally Chiang, who ruled Taiwan from 1945 until his death in 1975, is a regular topic of public debate, particularly at this time of year. Taiwan this week marked the 70th anniversary of the Feb. 28 massacre, known as "228," in which up to 28,000 Taiwanese were killed by Chiang's Nationalist, or Kuomintang (KMT), troops in the weeks following an uprising in 1947. A 2006 government report declared that Chiang was ultimately responsible for the atrocities.
After losing to Mao Zedong's Communist forces in the Chinese civil war, Chiang brought what remained of the KMT from mainland China to Taiwan in 1949 and declared martial law. The following years were known as the White Terror, due to the white helmets of the military police that took people away, often to never be seen again. Martial law was not lifted until 1987.
Today Chiang's face is still featured on coins, and variations of his name are easily found in most Taiwanese cities.
Chiang also used the name Chiang Zhong-zheng, and Zhongzheng Road is the most common road name in Taiwan. Near the seat of the government of Taiwan, officially known as the Republic of China, his presence is particularly strong: Chiang Kai-shek Memorial Hall is a stone's throw from Jieshou ("Long live Chiang Kai-shek) Park—all of which are located in Taipei's Zhongzheng District. A number of nearby schools and even a mountain peak carry the name Zhongzheng.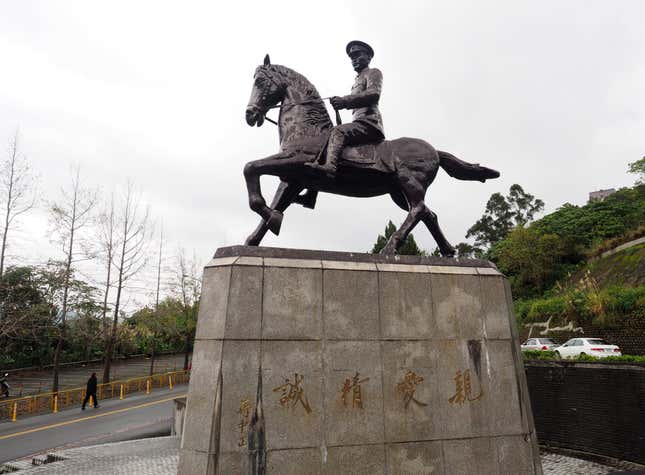 A fading presence
But the number of Chiang statues around Taiwan has dwindled in recent years. Many have been retired to a park in the city of Taoyuan that displays hundreds of statues of Chiang and his son and successor, Chiang Ching-kuo. Others have been destroyed or defaced. In the northern city of Keelung, where the KMT first arrived in Taiwan, a Chiang statue was decapitated in 2015. On Feb. 28, four students at Fu Jen Catholic University in New Taipei City were detained after they attempted to fell a bronze statue of Chiang with an electric saw.
That same day authorities closed Chiang Kai-shek Memorial Hall in order to prevent "social confrontation," according to culture minister Cheng Li-chiun. Amid concerns that Chiang's statue could be defaced, it was the first time the monument had been closed on the anniversary of 228 for political reasons, but confrontation occurred nonetheless.
Outside the memorial in Liberty Square—formerly known as Chiang Kai-shek Memorial Square—the chairman of the pro-independence Free Taiwan Party burned the Republic of China flag, which features the KMT emblem, and called for the removal of Chiang's statue. KMT supporters staged their own protest nearby, and scuffles ensued.
During his rule in Taiwan, Chiang was portrayed in the US and other countries as the leader of "Free China" and a Christian ally in the fight against the spread of communism. He was featured on the cover of Time magazine 10 times. But for many Taiwanese, he was an authoritarian ruler from another country who showed his true colors with the 228 uprising.
Chen Tsui-lien, a professor at National Taiwan University, has reviewed many of the historical documents related to 228, including Chiang's diaries. "He had a blind faith in the use of violence," she said.
On Monday, Taiwan's most recent KMT president, Ma Ying-jeou, visited a monument and the two museums in Taipei dedicated to 228, as he had done as president from 2008 through 2016. When asked by local reporters about the government's plan to repurpose Chiang Kai-shek Memorial Hall, Ma responded cautiously.
"As the head of state at the time, Chiang was undoubtedly liable for the 228 Incident and the White Terror era," Ma said. "As for exactly what kind of responsibility he had, I am afraid that is a matter for future generations to deliberate to reach a more accurate conclusion."
Examining a dark past
Chiang's legacy is not only a sensitive topic for today's KMT. It is also of major concern to the Chinese Communist Party (CCP), which has staked no small part of its legitimacy on annexing Taiwan. Although the CCP uses the term "reunification," it has never ruled Taiwan. Despite the fact that Chiang and Mao were enemies after 1949—they had cooperated on occasion before against warlords and the Japanese—both were in agreement that Taiwan was a part of China, said Drun.
"Chiang's vision of China… included both Taiwan and the mainland and he sought to 'take back' the territory that the [CCP] controlled until his death," Drun added.
Taiwan's president Tsai Ing-wen—whose Democratic Progressive Party espouses pro-independence views—has avoided rhetoric suggesting she intends to formalize Taiwan's sovereignty. But on Feb. 26, she announced the declassification of all 228-related documents, totaling 1.37 million pages. Examining Taiwan's dark past will only widen the political gap between Taiwan and China—where the idea of removing Mao's portrait and corpse from Tiananmen Square is unthinkable.
"Reconciliation must be built on truth," Tsai said at a 228 commemoration on Feb. 28. "Without the truth, the past will not stay in the past."