The epic battle of Changping is one of the best-known military campaigns in ancient China. The encirclement, concluded in 260 BC with a landslide victory by the State of Qin over the weaker State of Zhao, marks a turning point of the chaotic Warrior States period. In less than four decades, the ruler of Qin conquered all other independent states and became the first emperor of a unified China.
In the latest episode of The Qin Empire 3, a hit series now available on China's state broadcaster and several online streaming sites, the Qin army tried to identify Zhao spies among their own people, and got a list of their names carved on bamboo slips. Attentive audiences have spotted many names they are familiar with: Xi Jinping, Li Keqiang, Hu Jintao, Wen Jiabao, Jia Qinglin, and Li Changchun.
It turns out the period drama has named its bad guys after today's ruling elite of the Chinese Communist Party, the current president and premier included. The use of the names has become a sensation on China's internet in recent days, with the episode having first aired on Feb. 28.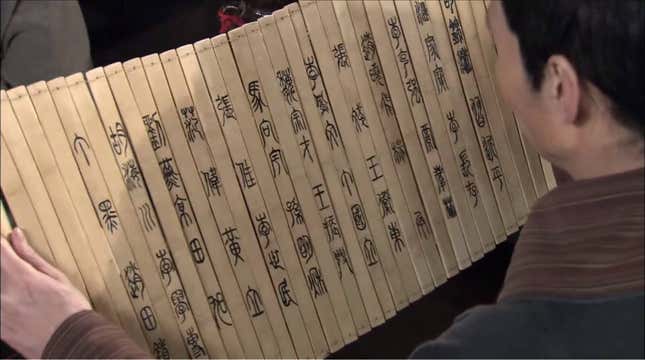 Chinese censors were quick to respond: The episode in question has been removed from one streaming site, while the shot showing the name usage has been cut out of the episode on several other sites, as Quartz observed on March 2.
A search for "The Qin Empire" on China's Quora-esque site Zhihu brings no results (link in Chinese).
First released in 2009, The Qin Empire has won the Flying Goddess Award—China's version of an Emmy—for the Best TV drama twice. The third season currently holds a 8.7/10 rate on Douban, a film portal similar to IMDb.
"The producer is seeking a big death," one blogger commented (link in Chinese) on the show's page on Douban, noting that the dubious scene happened at around the 19:23 mark of the 30th episode.
Why did the censors miss the name plot in the first place? Perhaps because the names were written in seal script, an archaic form of Chinese calligraphy that looks quite different from today's characters.
Meanwhile the show's crew members were possibly too lazy to come up with random names for the fictional Zhao spies. Of course, they might also have chosen the names deliberately as an act of defiance.
Also of interest: Since long before the episode aired, "Zhao family"—having nothing to do with the ancient State of Zhao—has been an online meme (paywall), and used as a derogatory term for China's rich and politically well-connected.
Whatever the case, the crew will likely be in deep trouble now.