You wouldn't have guessed from the trading floor of the New York Stock Exchange today that Snap, parent company of Snapchat, lost more than half a billion dollars in 2016.
As Thursday's opening bell ushered in the social giant's first day of trading as a public company, Snap founders Evan Spiegel and Bobby Murphy mingled with fellow execs and Wall Street traders on a floor rife with optimistic celebration. Wall Street suits donned Spectacles—Snap's video-taking sunglasses—while members of the media (and at least one Snap exec's supermodel fiancée) snapped photos of themselves with virtual dog ears. The company opened the day with a market capitalization of around $33 billion. (It settled at $28.4 billion.)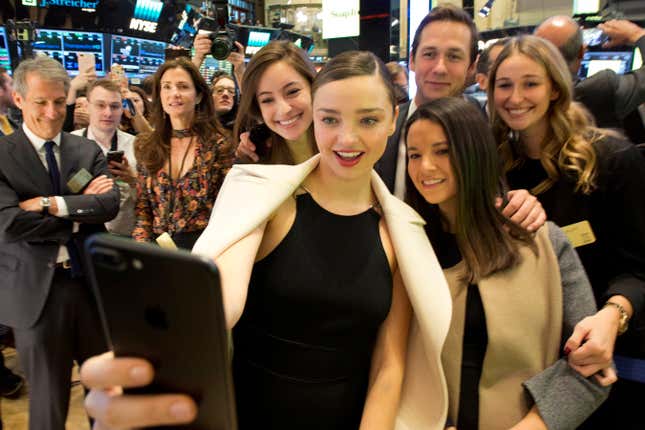 Just a few weeks earlier, Snap had filed a sobering prospectus with the US Securities and Exchange Commission. The company generated more than $404 million in revenue last year, but spent about $924 million to do so. Snap noted that it had "incurred operating losses in the past, [expects] to incur operating losses in the future, and may never achieve or maintain profitability."
But on March 2, Wall Street didn't seem to care. The company priced its shares at $17, and closed the day at $24.48, a gain of 44%. For comparison: In its first day of public trading (admittedly, beset with technical glitches) Facebook gained just pennies on its IPO price, while Twitter's first-day closing price was up 73% from its initial offering price of $23 per share.
Of course, since that 2012 debut, Facebook's stock has risen 258%, making it one of the most valuable public companies in the US. Twitter's stock is down about 62% since its IPO in November 2013, trading around its first-day close, and well below the near-$70 highs it achieved in early 2014. The two companies are Snap's most obvious public-company comparisons—Twitter because Snap also went public as a loss-making social network, Facebook because it owns Instagram and seems to be copying every idea Snapchat has—but it's still unclear which will prove the model (or warning) for Snap's financial future.
Facebook has become an indispensable tool for billions around the world, and for companies looking to advertise online. The social network had just shy of 1 billion monthly users when it went public, and has nearly doubled in size since. Twitter, while used by a dedicated group of fans across the world, has grown from 288 million users since its IPO to 319 million today. Snap currently has 160 million users, but growth has slowed down in recent quarters, and the overwhelming majority of its revenue comes from its North American users.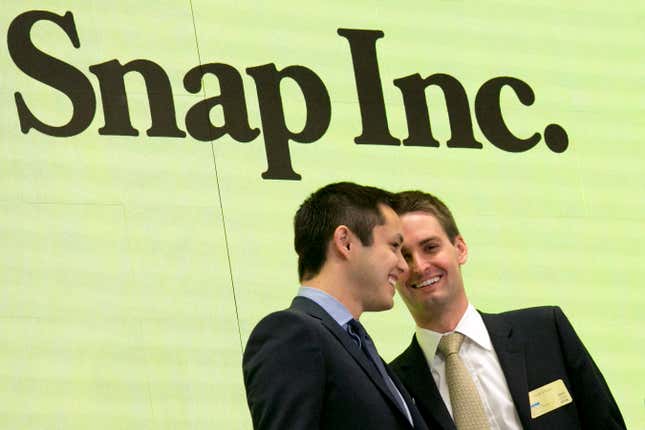 Snap also calls itself a camera company, and yet its only actual camera hardware, Spectacles, has "not generated significant revenue," according to the company's own public filings. If the company truly wants to become the first US hardware success story since Apple, it would do well to take a look at GoPro. After going public on the strength of a single popular camera line, GoPro has struggled to diversify its revenue streams (having since launched and recalled a drone, and previewed a high-end 360-degree camera). Shares once traded as high as $87, but now resides closer to about $9, and the company had multiple rounds of layoffs last year.
But perhaps those are concerns for a different day, a day that will surely come after Snap experiences a few quarters of earnings reports. For now, it's all smiles and dog filters on Wall Street.
This story has been updated to reflect closing market value figures for Snap.