China's trade data for May make it increasingly clear that the country's robust export performance of late has been distorted by faked invoicing.
Exports grew only 1% in May, compared with the same month in 2012; they had risen 14.7% year-on-year in April. And that 1% growth is yet another sign that China's economic growth has been slowing more than its headline rates suggest. Here's a look at the trend in export growth: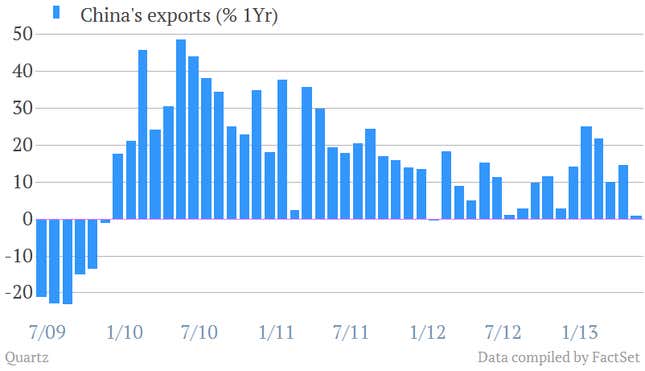 The fact that May's precipitous drop in exports occurred just after the government instituted a sweeping crackdown on trade invoicing and capital flows, as well as on foreign-currency loans, doesn't seem like a coincidence. And that would likely means China's disappointingly low first-quarter GDP growth of 7.7% actually overstated economic activity quite a bit.
In other words, the brisk pickup in exports since the beginning of 2013 resulted from capital inflows aiming to profit from appreciation of the yuan, and benefiting from interest rate and currency arbitrage available to businesses with accounts in Hong Kong. (Caixin has a great, detailed explanation of how traders invoice more goods than are actually exported in order to allow them to make up the difference in loans from Hong Kong banks that it reinvests in the mainland higher-yield assets like wealth management products.)
Here's a look at how Shenzhen, the main center for this activity, has diverged from Shanghai in the last few years. (The city-level data for May hasn't yet been announced.)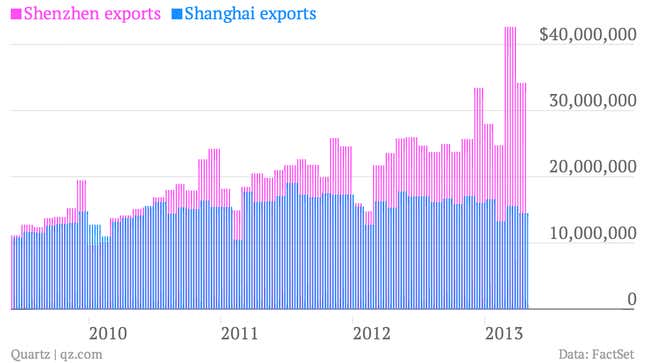 It will be interesting to see whether this continues.
As Caixin pointed out, the local government in Shenzhen depends on this trade to hit economic performance targets set by the provincial government. That, in many ways, allies the Shenzhen local government more closely with export businesses than with the central government, and incentivizes local officials to look the other way while traders pull off these cons.
But even the government may now wish it hadn't cracked down so hard. Tightening liquidity from a drop-off in capital inflows caused a sharp jump in interbank rates yesterday. That jump may endanger banks and businesses, which rely on cheap capital to roll over loans.