On March 4, the London-based Financial Times ran a story (paywall) educating readers on skyscrapers, the multistory structures that have been part of most city skylines for the last 132 years.
Given that the first skyscraper appeared in Chicago in 1885, and the buildings were widespread across the globe by the late 20th century, the story seems puzzlingly late to the trend. That is, until you look at the data and realize how few skyscrapers Europe actually has.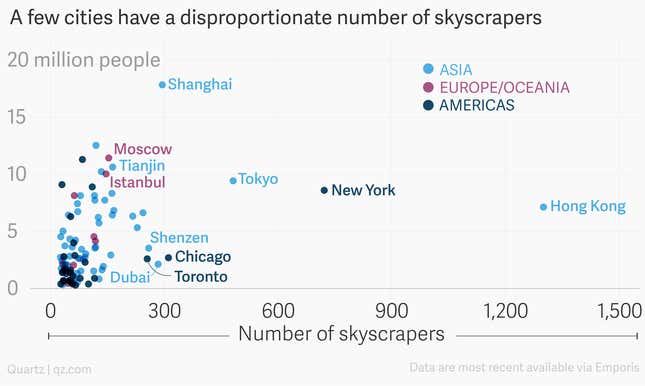 The real-estate data company Emporis defines a skyscraper as a multistory building at least 100 meters (about 330 feet) tall. In its list of the 100 cities in the world with the most skyscrapers, only five—Moscow (#17), Istanbul (#19), London (#58), Frankfurt (#92), and Paris (#98)—can be considered part of Europe. And the top two European cities on the list are in countries—Russia and Turkey, respectively—that are not part of the the economic powerhouse of western Europe.
The list is dominated by Asian cities, with Hong Kong outperforming second-place New York by far to lead the list with an astounding 1,302 skyscrapers. In fact, 62 of the world's cities with the most skyscrapers are in Asia, which has embraced vertical development with gusto. Pyongyang and Birmingham, the UK's second biggest city, each have about 2.5 million people, but the North Korean capital has 50% more skyscrapers (27 to Birmingham's 18).
But North American cities tend to punch way above their weight. Honolulu, Hawaii (population 375,000) has more skyscrapers (66) than London (population 8.67 million, 59 skyscrapers). Minneapolis (population 400,000) is on the list at #99. Madrid (population 3.2 million) is not. Chicago (311 skyscrapers, 2.7 million people) and Toronto (255 skyscrapers, 2.6 million people) are two of the most sky-oriented cities on the planet. Rome has about as many people (2.9 million) but just four skyscrapers (plus seven palaces, eight temples, one castle, one pyramid, and 28 churches).
Some western European cities have zoning restrictions that cap buildings' height; others were already thoroughly developed before the advent of mega-tall structures. Yet the dearth of skyscrapers in city centers doesn't mean Europe is scared of heights. Places like Amsterdam and Barcelona have elected to cluster high-rises on city outskirts. And a 70-story building planned in Madrid would replace the Shard in London as the tallest building in western Europe.
Here's the full list: