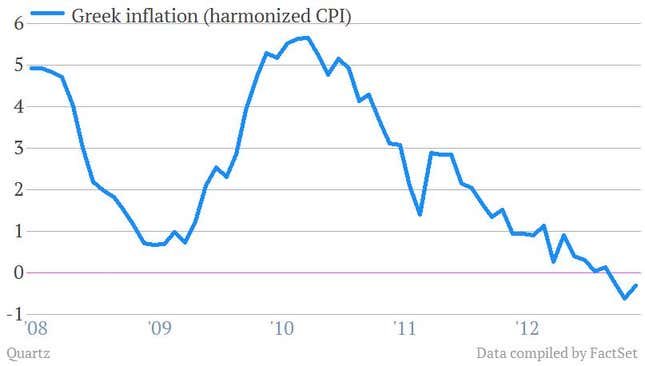 Prices are still falling in Greece, but not drastically. Data released today showed that the country's consumer price index, calculated to compare between eurozone countries, fell by 0.3% in May. In April, the CPI fell by 0.6%. By comparison, inflation in the euro area as a whole is a modest 1.4%.
Generally, deflation is considered bad for an economy. But Greece is a special case. Austerity measures such as wage cuts were intended to boost the country's competitiveness by lowering the price of Greek products and services like tourism, particularly for northern Europeans.
Although both prices and wages have adjusted somewhat, they haven't done so quickly. In fact, prices were still rising in Greece—albeit at a much slower pace—until March of this year. The faster prices and wages fall, the sooner Greek economy will be able to grow again.