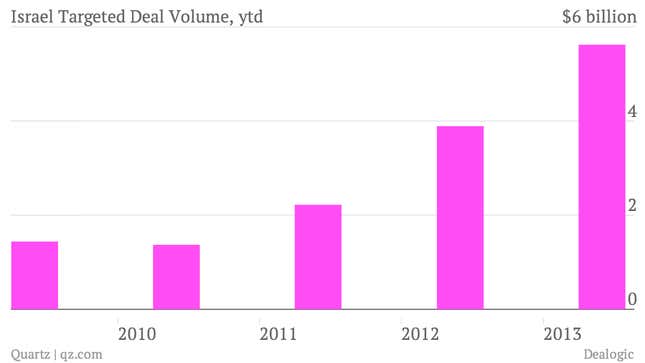 Google's expected acquisition of Israeli maps and navigation firm Waze shows how Israeli companies are becoming popular M&A targets. Deals involving Israeli companies as sellers have hit the highest ever volume in the year to date, with $5.6 billion worth of announced deals, according to Dealogic. And that doesn't even include the potential Google-Waze transaction, which has yet to be announced and could have a $1.1 billion price tag.
M&A volume in Israel represents only a fraction of global M&A, which hit more than $461 billion for the first quarter of this year. But compared to past performance, it's growing fast. There were $8.8 billion-worth of M&A deals involving Israeli sellers in 2012, and this year is already set to overtake that figure. And buyers are looking for bigger-sized targets. Just last week, there was speculation that Israel's SodaStream was in talks with Pepsi for a $2 billion deal, although Pepsi denied those talks. Coke could still be an interested buyer.
But one deal that would have catapulted Israel's M&A numbers to new heights has not come to fruition. In April, Canada's Potash Corp of Saskatchewan dropped an effort to acquire Israeli fertilizer company Israel Chemicals after political opposition in Israel. That deal would have been worth $16 billion.