Organizers of today's "Day Without a Woman" strike in the US want the world to recognize "the enormous value that women of all backgrounds add to our socio-economic system—while receiving lower wages and experiencing greater inequities, vulnerability to discrimination, sexual harassment, and job insecurity."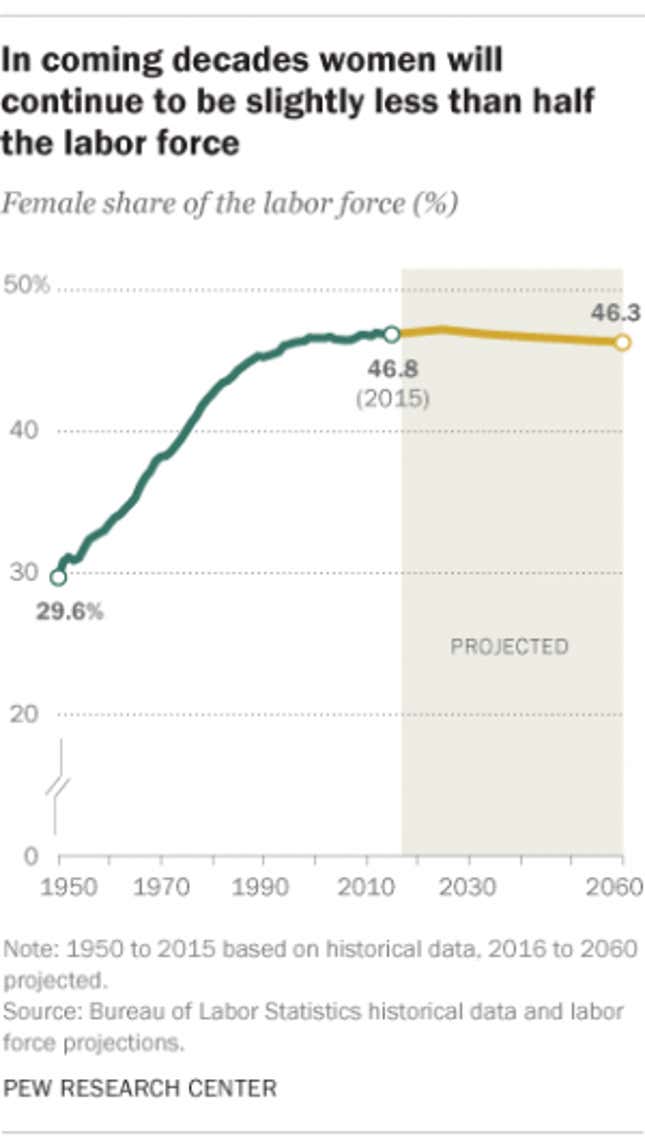 Also, there are simply fewer women than men in US jobs. That's one way in which women's progress has plateaued: Women will never make up half of the US workforce, government statistics highlighted in a recent Pew Research Center report indicate.
Citing data from the Bureau of Labor Statistics, Pew says "the female share of the labor force will peak at 47.1% in 2025 and then taper off to 46.3% by 2060."
The key to understanding this, Pew says, is in women's labor force participation rate—the percentage of the working age female population that is either working or actively seeking work. That indicator peaked at 60 percent in 1999, and has been declining since then (along with men's labor force participation rate). And it will continue downward, the US Bureau of Labor Statistics (BLS) predicts, meaning that women will remain a minority in the workforce.
Pew Research Center analyzed BLS data to determine several possible reasons for the decline in women's labor force participation since 1999:
Aging and retirement
Moms with children younger than 18 are less likely to participate in the labor force now than they were in 2000, particularly less-educated mothers.
Changing gender role attitudes
Women without children under 18 and single women are also less likely to have jobs than they were in the 1990s.
More single women are going to school.

Women remaining the minority in the workplace is not a foregone conclusion, Elisa Gould, a senior economist at the left-leaning think tank the Economic Policy Institute, told Quartz. There's still much to do to promote equality.
"There are barriers to women entering the labor market that haven't been addressed by lawmakers," Gould said. "If lawmakers put forward more policies to encourage women to join the workforce, then women could surpass men in the labor force participation rate."
In a report published Tuesday, Gould compared the labor force participation rates of women in the US to those of international peer countries, and found that the US has slipped below several other wealthy nations. Paid family leave and access to affordable and high-quality child care are on a list of social policies Gould proposes as ways to include more women in the labor force and improve the American economy.
Pew Research also notes that "future labor force participation rates are not etched in stone." But the overall decline in labor force participation—for men and women—is a worry, the Pew report says, adding, "if the much more modest growth rates of the labor force that BLS is projecting do hold true, the U.S. will face some headwinds in stoking economic growth in the future."