When it comes to retirement plans, you could do a lot worse than "wasting away in Margaritaville," as the 1977 hit by American singer-songwriter Jimmy Buffett describes:
"Nibblin' on sponge cake, watchin' the sun bake…Strummin' my six string on my front porch swing." Shrimp are boiling, there's booze in the blender, and so on and so on.
Over the decades, the mellow stance those lyrics laid out has resonated widely and deeply. "Margaritaville" is not just a song or an imaginary place—it's a point of view. And it's not just a lifestyle—it's a lifestyle brand. Before Gwyneth's Goop, or Clooney's Casamigos, there was Buffet's Margaritaville.
He may be the poster boy for a certain sort of sunburnt, laid-back state of mind, but Buffett's steel drum-inflected gospel doesn't spread itself. Buffett has become a hugely successful businessman, and the global population of "Parrotheads"—as his Hawaiian-shirted, flip-flopped fanbase is known—can indulge themselves not only at his concerts, but also in his casinos, resorts (in Tennessee, Louisiana, Florida, and the Cayman Islands), and yoga retreats. They can buy his outdoor furniture, scented candles, short stories, and, of course, Buffett-branded blenders, margarita mix, and shakers of salt.
In 2016, The New York Times reported that Buffet's Margaritaville Holdings did $1.5 billion in sales the previous year, with an $800 million family resort that included 1,200 homes—some priced at $1 million—underway.
Now, at 70 years old, Buffett offers a genius development for an aging lifestyle brand: Margaritaville's first retirement home.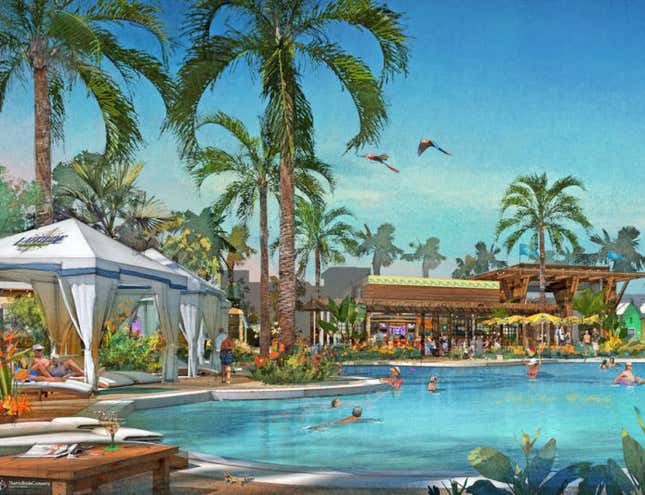 With Latitude Margaritaville, Buffett will join the US's $63 billion market for retirement communities—a sector expected to, well, boom with the aging of the baby boomers.
Buffett's company has partnered with Minto Communities, a Florida-based developer, "to develop new active adult communities in seaside destinations around the country." Construction on the first one, in Daytona Beach, is already underway. This is no ramshackle village: the $1 billion project includes 6,900 homes, a walkable "town center" with a fitness facility, indoor lap pool, a bandshell, spa, and restaurants—doubtlessly serving cheeseburgers, cold draft beers, and margaritas. A private beachfront club will be reachable by shuttle, should residents be wary of walking too far in their flip-flops.
With the population of Americans over 65 expected to double between 2014 and 2060, and many of those old people feeling younger than ever before, Buffett's investment is likely to make for a sound retirement plan. Gwyneth Paltrow should take note.