For almost two years now, Dianne Whelan has been on a mission. In July 2015, the 51-year-old filmmaker set off from Newfoundland to hike, bike, canoe, snowshoe, and ski Canada's Great Trail, a 24,000-kilometer (14,900-mile) casting call for the world's most intrepid voyagers. If she succeeds, Whelan will become the first person to complete the trail in its entirety, though that accomplishment has a notable caveat: The Great Trail itself won't be officially finished until the end of the year.
"I'm out here following my heart," Whelan told Quartz from her tent on a snowy stretch of trail in southeastern Ontario, not even a fifth of the way along.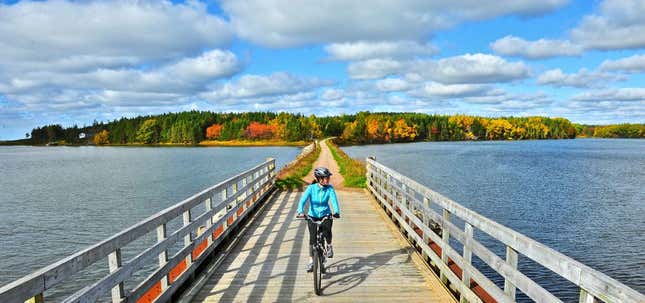 Even before Cheryl Strayed set off a hiking frenzy with her 2012 novel Wild, thousands of thrill-seekers had already traced the terrain of North American pathways. In the United States, the 2,650-mile Pacific Crest Trail, which spans from British Columbia to Baja California, and the 2,190-mile Appalachian Trail, which crosses 14 states from Maine to Georgia, were created in the 1960s as part of a broader push to build a nationwide system of trails. There are now 11 National Scenic Trails spanning much of the US.
But The Great Trail, when completed, will be the longest recreational path in the world. First conceived in the early 1990s, it links each of Canada's three coastlines, crossing 10 provinces and three territories. The trail itself features city asphalt, rural stone dust, and forest dirt, as well as 7,000 kilometers (4,350 miles) that must be traversed by boat. More than 90% of the trail is currently connected, but 2,263 kilometers (1,406 miles) of gaps remain, including a large swath around the Rocky Mountains in Alberta. It was originally slated for completion by July 1, in time for Canada's 150th birthday.
Terrain notwithstanding, the biggest obstacle to closing those gaps is money. Trans Canada Trail, the nonprofit that oversees the project, has spent the past four years on a major fundraising campaign to complete its final stretches, with the Canadian government contributing 50 cents for every dollar raised. Each province and territory owns and operates its own section, but the organization still needs $3 million to meet its $75 million goal.
Once complete, the trail will also have to be maintained. Trans Canada Trail national director of trail Jane Murphy says that each of the 477 trail groups involved will be responsible for upkeep on their respective sections.
"I thought I was alone"
In her 20 months on the trail, Whelan has stayed almost entirely faithful to its intended course, even when conditions made that dedication tough. Just 10 days into the trek, she was canoeing on Cape Breton Island's Bras d'Or Lake when a powerful offshore gust pushed her half a mile from the shoreline. By her own admission a middling athlete, Whelan didn't have the physical strength to fight the storm.
"I spent the entire time thinking I wasn't going to make it," she says. "I was quite certain I was going to end up in the water."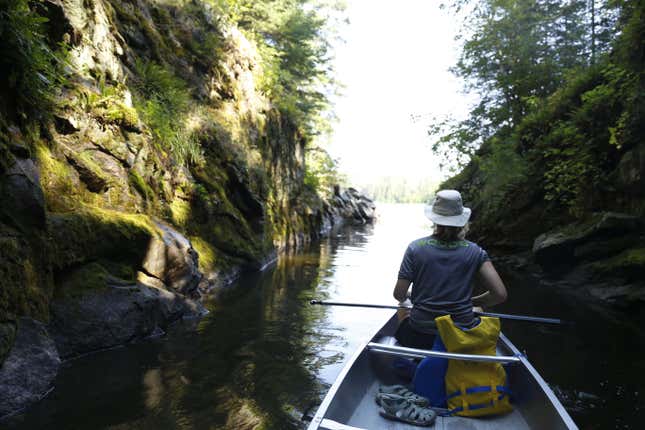 She ultimately managed to call a friend, who passed her location on to residents of Whycocomagh, a nearby village along the lake. Micmac First Nations children at a local school began to track Whelan from shore.
"What was amazing to me was I thought I was alone," she says. "Meanwhile, unknown to me, there were people who were aware of what was going on. And they were already taking actions to help me."
Eventually the storm calmed, but the experience taught Whelan—also working on a film based on her journey—a valuable lesson: The most memorable moments of her trek have been interactions with people. In Quebec, Whelan met a Cree woman who showed her how to mount a 17-foot cooking teepee, tie up a wild goose, build a fire, and cook the fowl. And when not using her bike (or snowshoes, or skis) Whelan leaves them with locals who make sure everything is ready for her at the next stopping place.
"For me, the trail is a metaphor," she says. "It's what connects us all across this beautiful land."