Government accountants have identified a surprising figure as they estimated the effects of the new Republican health-care bill on Americans. It's the public cost of caring for all the new babies who will be born if funding is cut to Planned Parenthood, a US non-profit dedicated to women's reproductive health, which largely serves the poor.
The new bill promises to cut all federal funding to Planned Parenthood—expected to be about $234 million over the next 10 years. But the actual cost saving will be about a third less, according to a report (pdf) from the non-partisan Congressional Budget Office (CBO), because of the obvious consequences of cutting poor communities off from what is often their only source of birth control.
Most of Planned Parenthood's government funding comes through Medicaid, the public health insurance for the poor. Medicaid patients bill the government for services provided by Planned Parenthood clinics, ranging from pre-natal care and pap smears to contraceptive prescriptions and STD tests.
However, because Planned Parenthood provides information about abortion to its clients and offers abortions in some of its clinics, it has become a target of religious conservatives in the US, who oppose abortion and in many cases contraception itself. (Federal law already prohibits any federal money from being used to provide abortions.)
In 2015, Republicans threatened to shut down the government unless federal funding to the group was forbidden, but were ultimately deterred by the Obama administration.
Now that Republicans have control of Congress and the White House, their new health-care reform bill aims to officially defund Planned Parenthood—though rules against targeting individual companies have forced them to lay out a laborious set of criteria that define the organization without naming it: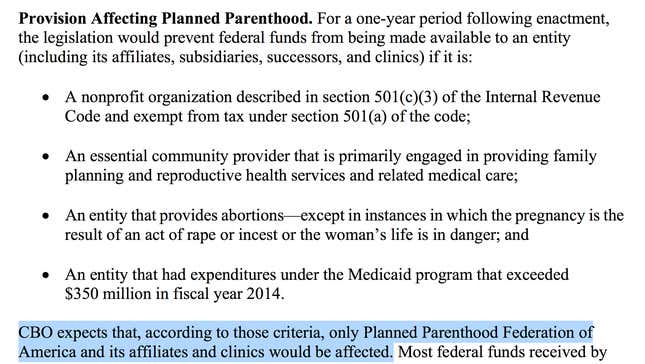 If the cuts go through, the CBO found, they would largely affect women "in areas without other health care clinics or medical practitioners who serve low-income populations." About 15% of these women would end up without access to family planning services.
For those women, the bean-counters estimate, Medicaid would need to pay for thousands of additional births every year. They also forecast that these women's children will require government-subsidized health care through Medicaid. Overall, that would lead to an estimated $77 million in additional Medicaid spending over the next decade.
That $77 million figure is just the cold-blooded financial cost of taking away the most vulnerable Americans' access to family planning. The human cost, of course, can't be so easily measured.