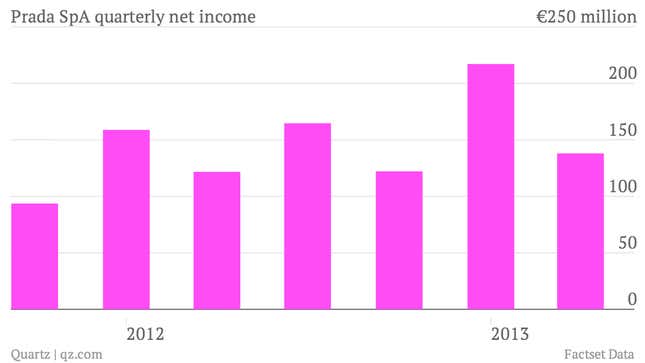 The numbers: Not great. Profits at the Italian fashion house Prada SpA increased 14%—or €138 million ($183 million)—during the first quarter, compared to the same period a year earlier. That's Prada's slowest pace of growth in at least a year, Bloomberg points out. Prada's earnings were released after the close of trading in Hong Kong where it is listed. Its shares were down 1.35%.
The takeaway: Until now, Prada has avoided a slowdown that's affected other luxury good makers. The Milan-based company's profits were dragged down by a fall in sales of 7.9% in Italy and now it says it is going to focus on "tight control over costs." Sales are growing strong in Asia Pacific—up 25% from a year earlier—thanks to its stores in China, the company said. Sales in the Americas grew 23% and in Europe overall just 7%.
What's interesting: Prada is expanding beyond the major Chinese metropolises like Beijing and Shanghai to smaller second-tier cities including Nanjing and Changchun in hopes that more Chinese will buy its goods within China. (Over half of Prada's sales to Chinese consumers take place outside of China (paywall)). The company said that sales in Greater China (which includes the mainland, Hong Kong and Macau), where it has 25 stores, rose 24% during the quarter.