While Singapore may not immediately leap to mind when one thinks of innovation, a quick visit will reveal why the Lion City recently claimed top spot on the Global Innovation Index as "Asia's most innovative economy." With a foundation built on a rich cultural heritage, contemporary Singapore is poised to take a prominent position on the global stage. Industry leaders point to Singapore's vibrant start-up culture, blossoming media industry and inimitable art and design as evidence that Singapore is future-thinking and a place where businesses of all stripes can thrive.
Asia's most innovative economy
In the southwest of Singapore, near the National University of Singapore (NUS) and the INSEAD Asia campus, is Ayer Rajah Crescent. It is home to a concentration of start-ups and, in particular, Blk71. Once a run-down industrial building slated for demolition, Blk71 now houses the largest cluster of start-ups in the city and has been dubbed by The Economist "the world's most tightly packed Entrepreneurial ecosystem."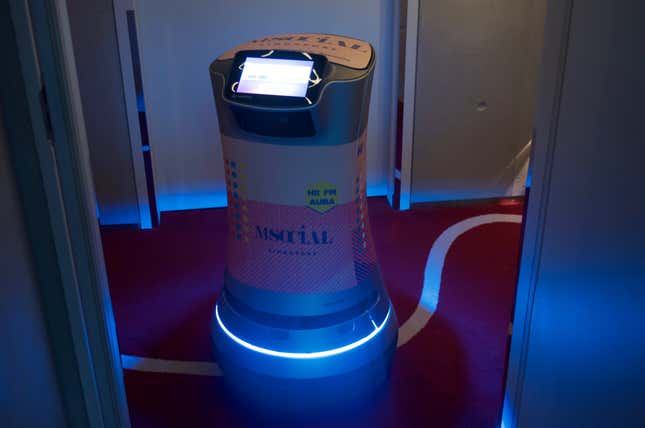 Blk71 is home to hundreds of tech start-ups, venture capitalists and incubators, including California-based Savioke which creates hospitality robots designed to greet guests and make room deliveries. "It's the coolest place in Singapore for start-ups," says Akash Vibhute, a Robot Engineer at Savioke. By establishing a foothold in Asia, Savioke's robots stand to alleviate Asia's hospitality staffing shortage.
While Blk71 is the genesis of Singapore's start-up hub, the start-up sector has now expanded to include the JTC Launchpad. It functions as a wider entrepreneurship community for start-ups and incubators across a range of industries, including biomedical sciences, infocomm and engineering.
Many start-ups are gravitating to Singapore because it's so easy to do business there. In fact, the World Bank described Singapore as having one of the best pro-business environments in the world. Furthermore, Singapore outpaces its Asian counterparts in terms of attracting venture capital funding and offering cheap, fast and reliable Internet—Singapore consistently comes in first for fastest connection speed.
"Launching in Singapore opens more doors because of the regional familiarity and Singapore's reputation," explains Samson Leo, a co-founder of Xfers (a fintech start-up also based at Blk71). "There's clear, pro-business legislation, and Singapore is a good test-bed from which to launch products because of the demographics and significant venture capital support."
The city-state provides a fertile ground to test new ideas around a set of guidelines for a regulatory sandbox. This is especially important in the fintech space, where failures can be more costly. The result is a safe environment where if an experiment fails, it fails safely. In fact, such is Singapore's standing within the global financial community that every year, the fraternity's top minds converge here for the Singapore FinTech Festival to discuss the newest industry developments, share the latest innovations and network for future collaborations.
Singapore enables creativity to spark innovation. By creating an environment where citizens and foreign investors feel empowered to start businesses, rather than be intimidated by red tape or limited by outsized corporate taxes, Singapore attracts the best and brightest ready to push Southeast Asia, and the global economy, forward.
The next digital media hub
To support the next generation of digital content creators, Singapore recently opened PIXEL Studios. Backed by the Infocomm Media Development Authority (IMDA), PIXEL provides creators with a full gamut of production tools including VR/AR gear, lighting equipment and editing software. The space is divided between media and gaming to help foster collaboration among creators working in those two areas.
Viddsee, the platform that brings the region's content to market, is one company poised to benefit from PIXEL studios. Derek Tan, Viddsee's co-founder, says he was "conscious of building a pan-Asian company from day one." He sees Viddsee as a way to build communities around smaller Southeast Asian markets and feels the best way to reach these audiences is through authentic local films whose stories speak to a particular culture and psyche.
Angeline Poh, a seasoned veteran of Singapore's media industry and now IMDA's assistant chief executive of content and innovation, remembers when Singapore first placed itself on the global media map. In the 1990's, companies such as HBO Asia and Discovery Networks Asia-Pacific (DNAP) made Singapore their regional headquarters in Asia. "Singapore was their first base in Asia, and set the stage for [subsequent] Asian partnerships," she recalls. Today, Singapore is quickly establishing itself as a global media hub, routinely hosting events and workshops at PIXEL studios with big players such as HBO Asia, DNAP and international specialists like TorinoFilmLab. Multinational media corporations find its continuous stability attractive and transparent intellectual property (IP) rights make creative professionals feel safe and emboldened to try new ideas.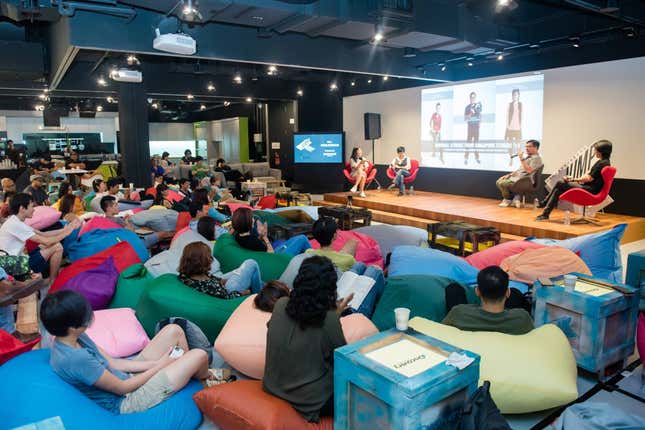 PIXEL Studios played an integral role in last year's Singapore Media Festival, a cornerstone event which celebrates storytelling in the region and showcases the best in Southeast Asian television, film and digital content. It hosted the inaugural SMF Ignite, a one day seminar included in the Festival which provided practical insights on digital content creation and monetization opportunities for content creators and infocomm professionals.
Singapore recognizes the value in actively supporting creativity in the media space. By creating an ideal space where experienced and amateur media professionals can exchange ideas and collaborate, the region is bolstering its visibility as the next great destination for those hoping to make waves through storytelling.
Where the future is made
Perhaps the place where Singapore's innovative spirit and formidable thought leadership is best embodied is its iconic Marina Bay Sands®' ArtScience Museum TM. Recognized as one of the best tourist destinations in the world, it looks at the interplay between technology, media and art. "We believe that where art and science meet, the future is made," says the museum's executive director, Honor Harger. Situated along the Marina Bay waterfront, the museum's sustainable design and outward-facing facade is just a precursor to the mesmerizing exhibitions found inside. With a structure inspired by a lotus flower, the Museum is situated on a lily pond and is made up of "petals" that rise up from the base and provide natural light for the galleries. Designed with nature in mind, the museum's focus is on the region's and planet's most pressing issues. Through the intersection of art, science, technology and culture, its exhibitions examine the future of our world.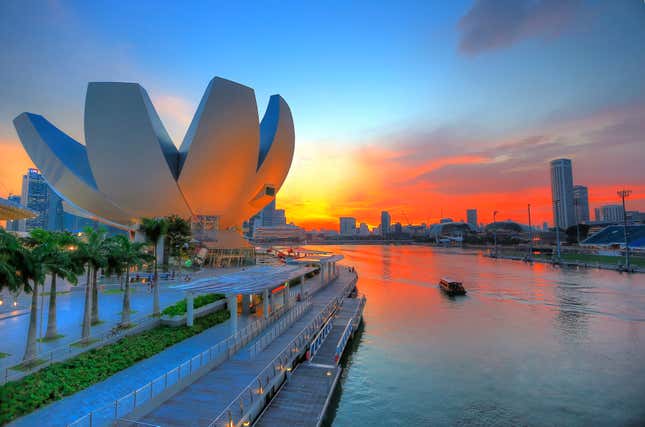 The museum's hallmark exhibition is "Future World," an interactive and immersive journey where art installations come to life through science and technology. Last season, visitors could interact with a sensory flower and butterfly garden that synchronized with movements in real time. When visitors stepped on a flower it would slowly die and then disintegrate. Elsewhere in the room, another flower would grow back in its stead. Beautiful and alarming, it stood as a powerful reminder of the lasting effects humans have on the environment.
In partnership with the World Wildlife Fund and Singapore artist Brian Gothong Tan, the museum recently opened "Into the Wild: An Immersive Virtual Adventure" which allows visitors to explore a virtual rainforest. Part adventure and part lesson in deforestation, visitors can interact with animals on the brink of extinction as a result of the detrimental impacts of deforestation. At the conclusion of the exhibition, you can plant a tree in an Indonesian rainforest.
This leveraging of technology for greater social good speaks to regional leadership: Singapore knows that thinking about the future is not limited to advancement alone. Rather, it must be coupled with the protection of natural resources to ensure a brighter, stronger future.
Singapore understands the power of digital transformation and the increasingly collaborative nature of the economy and civil society. Beyond simply imagining the future, Singapore is creating a framework for an inclusive and innovative society that supports global goals.
Learn more about the media and finance industries and related business events in Singapore from Singapore Tourism Board.
This article was produced on behalf of Singapore Tourism Board by Quartz Creative and not by the Quartz editorial staff.