The controversy surrounding Thinx founder Miki Agrawal—which began when Racked published an exposé portraying a toxic workplace culture that spiraled into allegations of sexual harassment—has already become a case study in mismanagement.
While scandals at startups are nothing new, what's unique is how Thinx represents a confluence of cultural trends: America's obsession with "the cult of the entrepreneur," the rise of socially conscious capitalism, and the new rules of the millennial workplace. All this against the backdrop of the tech world's resistance to treating women fairly.
Thinx sold a lifestyle to its mostly millennial employees: the perfect trifecta of work/purpose/play. Agrawal cast Thinx—high-tech underwear for women during their menstrual cycles—as a socially conscious product with a feminist mission, and crafted her image to reflect that. She saw breaking taboos as part of her brand and oversaw what employees describe as an unregulated office environment in New York City that reflected her tastes. And it appears that Thinx could get away with it as long as her employees—mostly women—were willing to put up with subpar pay, benefits, and working conditions.
For a while, they did, until one fired employee sparked a wave of complaints. Ten of Thinx's 35 employees have reportedly quit since January, its board launched an inquiry into Agrawal's behavior, and she stepped down as CEO.
Your office is not a tent in the desert
The Thinx scandal highlights the serious consequences of taking a seemingly playful workplace culture too far. Agrawal drew inspiration from the Burning Man, the desert festival that has essentially become a religious experience for the tech community. The festival is considered the ultimate blueprint for innovation and self-exploration (Elon Musk has said that Burning Man is Silicon Valley). Part of its appeal is that life at Burning Man seems to know no boundaries.
It appears female empowerment for Agrawal came to mean living without inhibitions, just like on the Burning Man playa of Nevada's Black Rock Desert. Employees complained about Agrawal's confessional post, "My lessons from Burning Man 2016," in which she relayed her experience in an orgy dome. Detailing her intimate life would, presumably, attract attention and sell more Thinx. It also would affirm her reputation as an entrepreneur who boldly questions the status quo.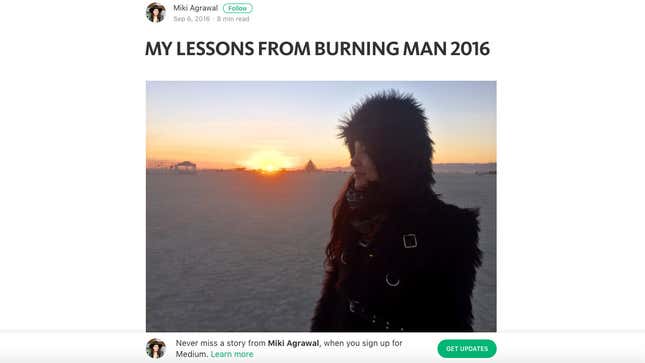 The Thinx office, too, came to reflect a boundary-less environment: a sexually-charged atmosphere with occasional nudity on Agrawal's part, when she changed clothes, according to former employees. Instead of hiring an HR person, policy and hiring decisions were reportedly more fluid and based on Agrawal's whim. As employees recounted to New York Magazine, maintaining a casual relationship with their boss, in an effort to retain their jobs, became an obligation.
The hype is no longer enough
Navigating the slippery slope of a "casual" startup culture is finally being scrutinized in ways it hasn't before due to a shifting of the scales in the employer-employee relationship. Thanks to a closer look at Silicon Valley culture from the media—for example, weighing the merits of the gig economy and how this massive shift is affecting workers—employees are slowly speaking out more boldly (just look at Uber, or Yelp). Workers are increasingly skeptical of startups that highlight the work/purpose/play trifecta, often a justification for lower wages and a way to get more out of workers.
In many cases, play eventually becomes work, and purpose is a means to profit. Take for example WeWork, the real-estate and co-working startup valued at close to $18 billion, which hosts an annual "Summer Camp" to facilitate bonding between employees and members. Business Insider published a photo essay portraying an idyllic outing, but reviewers on Glassdoor tell another story. "No work/life balance," wrote one. "Work/life balance doesn't seem to exist," wrote another. Or take travel startup Remote Year, which was founded on the premise of combining work and play. The concept of sending 100 remote workers (mostly millennial) on an around-the-world tour sounded even utopian in theory. But maintaining clear boundaries quickly became difficult. Staff struggled to enforce company policies regarding clients who had become friends. Nearly half of Remote Year's first cohort left the program early.
Perhaps the company best known for blending work and play is e-commerce retailer Zappos, which has inspired a wave of startups. Zappos CEO Tony Hsieh encouraged the concept with his company-building manual Delivering Happiness. He sought to replicate Burning Man culture in the area surrounding Zappos's Las Vegas headquarters with his $350 million Downtown Project investment.
Agrawal was among the first to participate in his experiment and opened a restaurant near the Zappos campus (which shut down after a few months). Hsieh in turn wrote the foreword to Agrawal's book, Do Cool Sh*t: Quit your day job, start your own business, and live happily ever after.