Updated at 8am on March 23 in London. 
Four people have died and about 29 more were injured, seven of them critically, in what police have described as an "Islamist-related" terrorism incident outside the British parliament in Westminster, London on March 22. (Police had earlier said five people had died.) A man driving a car ran down a number of people on nearby Westminster Bridge, crashed the vehicle, ran into the parliament grounds armed with a knife, and stabbed a policeman. Security forces then shot and killed the attacker.
The policeman, named as 48-year-old Keith Palmer, and two other members of the public died. The police's acting deputy commissioner, Mark Rowley, said that police think they know who the attacker was—their "working assumption" is that it was "Islamist-related terrorism," but haven't named the attacker yet. Police earlier said a full counter-terrorism investigation had been opened. Overnight, police made seven arrests and continued searches in London, Birmingham, and other parts of the UK, Rowley said the morning after the attack.
Parliament, which is housed in the Palace of Westminster, was put on lockdown for most of the evening following the afternoon attack. Police have said there is a "mix of nationalities" among those who have died. There were reports of French schoolchildren and South Korea tourists injured in the attack.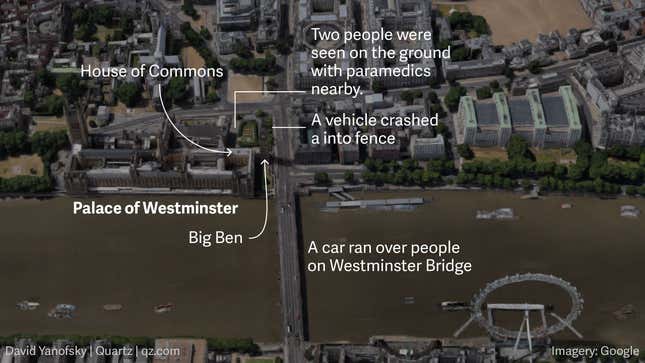 One woman was also been pulled from the River Thames after the attack suffered serious injuries. Armed police and other emergency services are on the scene, while the roads around parliament have been cleared of people and traffic. Extra police will be around London and the UK for the next few days. Parliament and Westminster is a heavily secured area with a high police presence.
Parliament was busy this afternoon, as MPs were heading in for a debate. Lawmakers were held inside and parliament has been suspended. Prime minister Theresa May was taken away from parliament in a car by police as the incident occurred. May is now at Downing Street and held an emergency Cobra committee meeting, which deals with responses to crises. She said the UK's threat level has been set to "severe" for sometime now and will stay that way. Parliament will sit "as normal" on Thursday, she said. Here's a statement from the prime minster as she confirms details of the attack: