When it comes to skyscrapers lately, there's tall and then there is supertall.
Over the past decade, a succession of 1,000-ft-and-higher structures have sprouted on New York City's "Billionaire's Row," a strip of supertall, super-skinny and super-expensive condos two blocks south of Central Park. Marketed to the world's ultra-wealthy, these towers have attracted criticism for skirting zoning laws, ruining Manhattan's skyline and casting unwelcome shadows.
Architects at Oiio Studio, like many urbanists, have been bothered by this trend. To dramatize the folly of the supertall, they sketched out the Big Bend, a mind-boggling, U-shaped structure to loom over all others. The 4,000-ft bendy tower would push it into the "megatall" category, according to Council on Tall Buildings and Urban Habitat's standards.
With caricatures of rich men in top hats dotting their drawings, Big Bend satirizes "the fact that New York has become a giant hotel," explains Oiio's Ioannis Oikonomou. He laments that most multimillion-dollar pads are pieds-à-terre for wealthy foreigners, like the secret buyer who paid a record-breaking $100.4 million for the penthouse atop the 1,005-ft high One57 tower in 2015.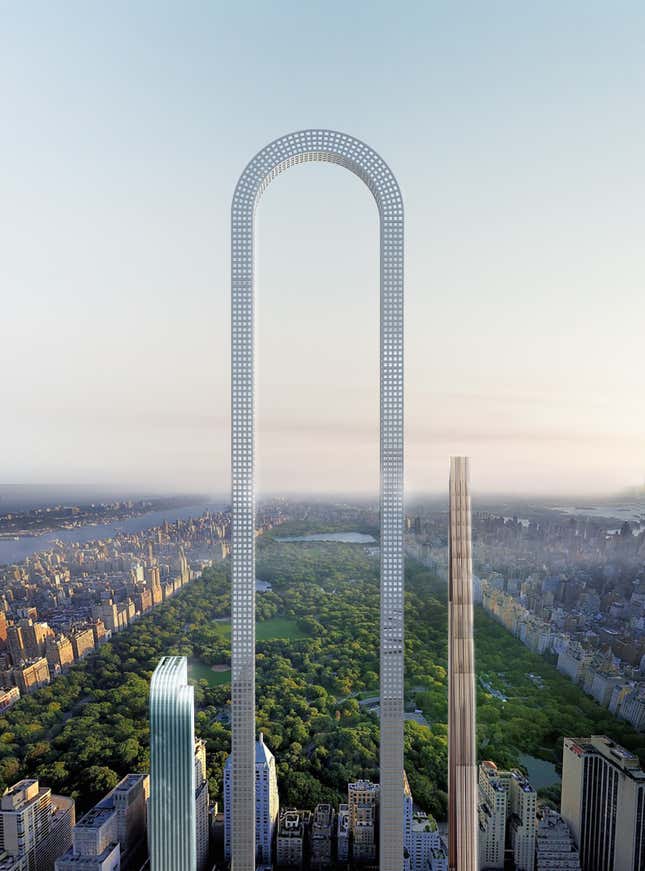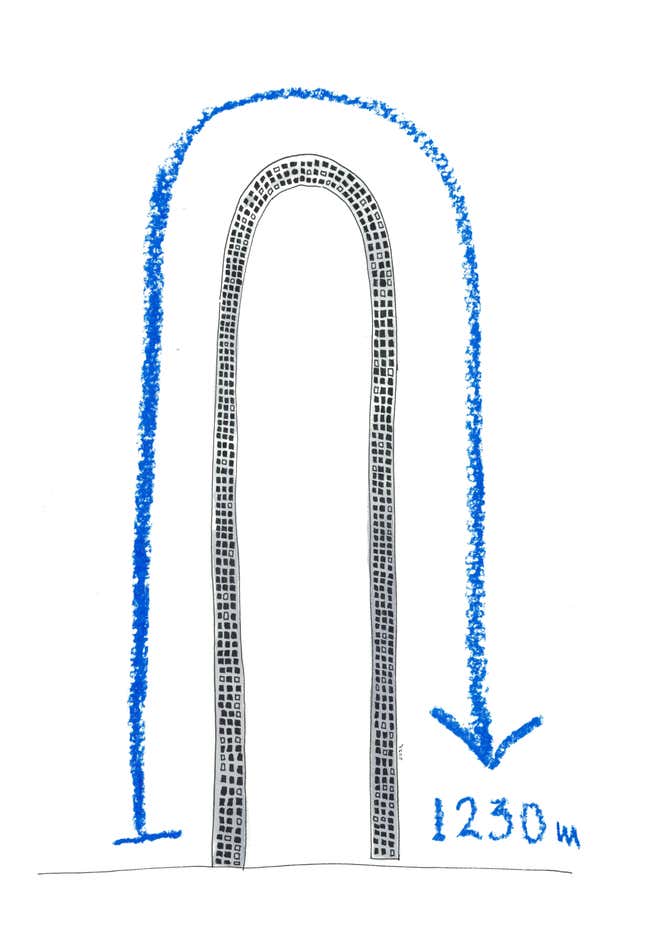 The aim of Big Bend is "to raise awareness on the extreme law-bending that the emergence of such structures requires by proposing an even more extreme, yet achievable, scenario," Oikonomou tells Quartz.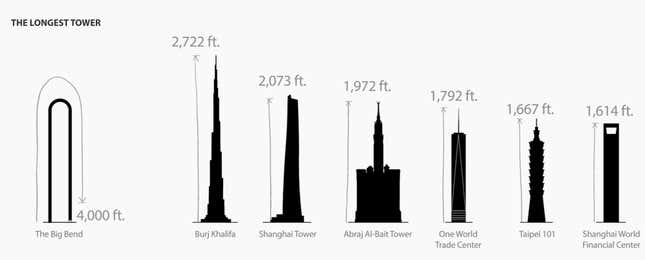 Indeed, what makes Big Bend so provocative is that it seems possible to build. With advances in high-speed elevators by ThyssenKrupp and engineering advances that have enabled the slate of "weird architecture" of China, structures like Big Bend can be envisioned as plausible. "There is nothing particularly demanding that has not been already tested within existing high-rise structures," Oikonomou says. The main challenge, beyond that posed by the extreme height, would be figuring out the curved connection linking the towers.
"As a concept it complies with NYC's zoning laws," he says. "That is why it constitutes a feasible scenario."