Kim Jong Un has been touring renovations to the Korean Revolution Museum in Pyongyang, according to an undated image released March 28 by North Korean news agency KCNA. In the photo, the North Korean ruler speaks to his entourage and museum officials. Behind the 33-year-old beams a life-sized model of his deceased father, Kim Jong Il, standing on a sunny patch of grass and looking like a proud father. The resemblance is uncanny.
The Korean Revolution Museum recounts the country's history and the succession of predecessors Kim Il Sung and Kim Jong Il. And as the inexperienced Kim Jong Un increasingly provokes the outside world with long-range missile tests and threatening statements, this photo suggests a symbolic attempt to shore up the country's shaky-looking future with connections to its past.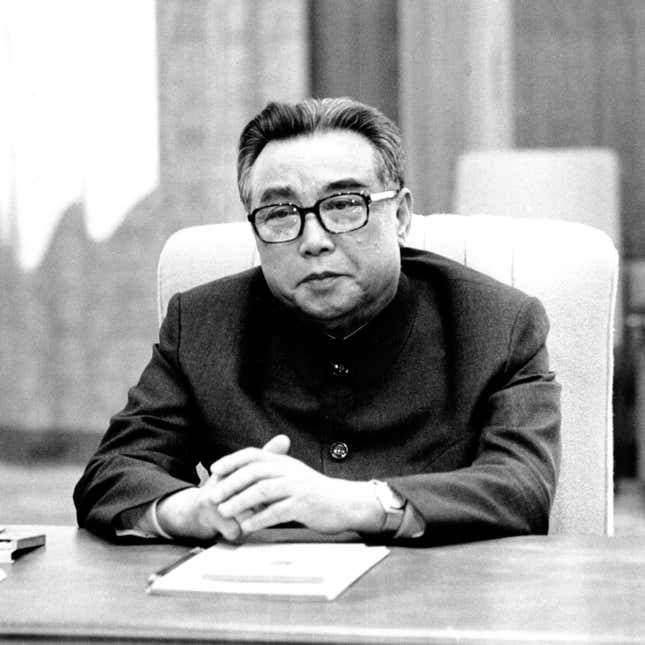 Since taking power in 2012, the young Kim has been frequently observed shrouding himself in symbols and icons associated with his father and grandfather. Despite being raised from a young age in Switzerland before returning to North Korea, his dress closely follows the styles of his forebears, including the poofy, swept-back haircut made famous by Kim Jung Il and which is reportedly encouraged among citizens by the government.
Kim Jong Un's reign has been tested by internal and external challenges in the past few months. His missile tests have disturbed and angered China, their most powerful neighbor and biggest trade partner. Recently, there have been reports of growing dissent within the totalitarian state's elite leadership, including defections.  The recent headline-grabbing assassination of Kim's half brother Kim Jong Nam in Malaysia has only exacerbated tensions between the two countries, leading to expulsions and cancelled visa agreements.