The Twitter egg is a joke we never really got. The placeholder avatar for users without a profile photo was supposedly a reference to the bird on Twitter's logo. "This was a playful way to reference how eggs hatch into birds that send all the Tweets you see on Twitter," their design team explained. Get it? Neither did we.
After seven years, Twitter announced today that it's finally ditching their flat design. Twitter's design team explains in a March 31 blog post that they're changing the default profile avatar because the egg has become a symbol of online trolling. "We've noticed patterns of behavior with accounts that are created only to harass others—often they don't take the time to personalize their accounts. This has created an association between the default egg profile photo and negative behavior…."

Ars Technica's national security editor Sean Gallagher echoes Twitter's observation. Surveying social media troll tactics, he writes:
"Egg" accounts—Twitter profiles that have the default "egg" avatar instead of a profile photo—are frequently associated with bots and throwaway accounts. But they're also associated with people who just don't post that often and may not know how (or care) to change their profile picture. A sure sign that there's a normal user behind an egg is if geolocation data has been left turned on for the account.
In lieu of the tainted egg, the design team has come up with a generic head-and-shoulders "place photo here" symbol to make it clear to users that they should upload a unique image. The design team notes that they obsessed over creating a "gender-balanced" silhouette, tweaking the head shape (is that a woman with a bob or man with a wide jaw?) and the width of the figure's shoulders.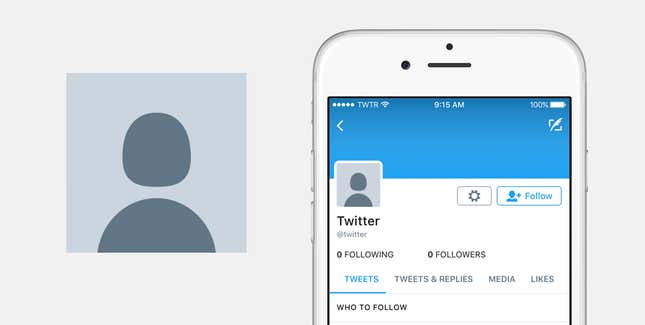 Twitter's egg substitute mimics the head-and-shoulder placeholder graphics Facebook and LinkedIn are already using.
The avatar redesign is part of Twitter's plan to combat the rise of online bullying. The platform has faced growing criticism for their lack of stronger action against president Donald Trump's regular barrage of "bully tweets" and the militia of cyberbullies who routinely shame, stalk, and harass other Twitter users. In an effort to combat trolls and harassment, Twitter unveiled a new set of safety features in February, including preventing blocked users from creating new accounts and a notification filter flagging users with a default avatar.