April Fools' Day this year has been muted at most news outlets, with many forgoing spoof articles (a grand tradition, especially in Britain) because of the very real, widespread problem of "fake news" that impacted the last US presidential election and threatens others around the world.
It's hard to make jokes when everything already seems in upheaval, as the editor-in-chief of the satirical paper The Onion explained to the New York Times. "We feel like we've passed every single stage of despair, hopelessness and rage." And that was before the US election in November.
Late night talk show host Conan O'Brien seemed to sum up the dark moods of a country suffering through the incredibly tumultuous first few months of a Donald Trump presidency:
Nods to April Fools' Day from outside the US were even darker—the Russian foreign ministry posted a spoof voicemail message for embassy answering machines that said "To use the services of Russian hackers, press two," and "to request election interference press 3, and wait for the next election campaign."
But a few intrepid news outlets ventured into the light-hearted territory of the traditional April Fools' Day story.
Naturally, their attempts at humor included some fake tweets from the US president. These spoof stories appeared Saturday just as Trump embarked on the now-familiar ritual of venting on Twitter in the early hours.
They are somewhat hard to tell apart. Can you spot the difference?
Number One: I love dolphins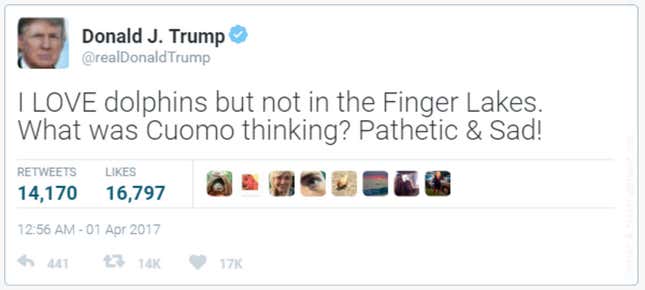 Number Two: Sleepy Eyes

Number Three: #trumpdublin

Number Four: A total scam

Number 1 and 3 are April Fool's Day jokes, from a spoof about dolphins "returning" to the Finger Lakes, and the Trump organization buying a Dublin building and installing a rooftop driving range, respectively. Numbers 2 and 4 are real, and from Trump's personal twitter account today.