By Tamara Gaffney
As broadcasters make programs available via mobile devices and offer live content to their subscribers, the storm of available content has led to growth in video content consumption across all devices, particularly tablets and smartphones. The Adobe® U.S. Digital Video Benchmark Report for 2012 uncovered some interesting trends.
Consumption of encrypted content is surging
TV Everywhere video content, which grants access to encrypted content through subscriber authentication, has grown over 12x year-over-year (YoY) in 2012. The hockey stick growth curve is due partially to major sporting events and partially to the increased adoption by affluent, tech savvy tablet device users. Mobile viewership accounts for over 70% of the TV Everywhere views.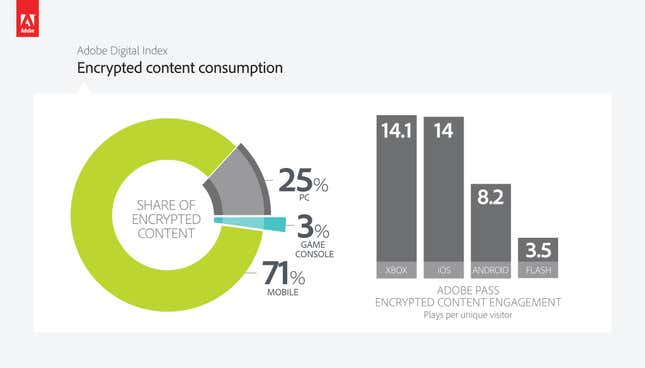 However, the most engaged viewers come from the small portion of those accessing the content via Xbox game console, averaging over 14 plays per unique visitor. Apple users, which are largely made up of iPads, are also highly engaged with 14 plays per unique visitor.
Tablet access drives growth
Online digital video content consumption has also ramped up in 2012, growing at a rate of 30% YoY.  Like TV Everywhere, online video consumption growth is related to mobile devices. Online video starts, defined as the initial access of any video, have grown 360% for tablets and 300% for mobile phones in 2012.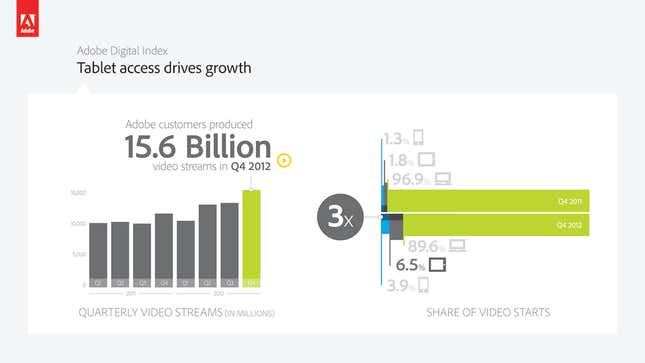 Will digital video replace or augment traditional television?
The collision of tablet use, high speed data availability and usage patterns of digital video content demonstrates that consumers will be demanding that broadcasters provide additional levels of access to their content in the future. These shifts will have profound impact on the future of media.
For advertisers, targeted ad content will become more of a reality with large TV programmers beginning to latch onto the multiple digital video distribution methods. Mobile devices continue to shape the way consumers respond to media content, the data shows that multiple forms of digital video access are here to stay and mobile continues to be a viable medium for TV and sports-related video content.
For broadcasters, new platforms are providing incremental value and targeting capabilities. Early adopters of digital video are affluent, engaged, multi-device consumer which should spur advertisers to pay extra to gain access to this crowd. With strictly online media companies producing unique content, it may only be a matter of time before all TV publishers are wanting to make more content readily available because it is the most beneficial for them and the consumer.
For consumers, digital video is an entirely different way to consume content, where we pay one time for digital access to content and are then able to gain access on a variety of different technology platforms. The future is bright for technology already adopted by many large TV and sports broadcasters as a valuable way to reach a growing mobile consumer base with valuable video content.
Check out the full report and follow me on Twitter @tamarag for insights into digital trends.
This article is written by Adobe and not by the Quartz editorial staff.