In 1967, a large crowd gathered in suburban London to witness the unveiling of what's said to be the very first ATM machine: Barclays Bank's "robot cashier" a godsend for clients who needed to take out money after bank hours. With a slot for a token, round push buttons and a clunky tray, the ATMs looked like vending machines for cash—indeed inventor John Shepherd-Barron credits the automatic snack and drink distributors as his design inspiration. Fifty years later, perhaps that model is due for a design rethink.
Drawing aesthetic cues from consumer electronics and mobile devices, the world's biggest ATM manufacturer Diebold Nixdorf unveiled yesterday a prototype for an über sleek model that looks surprisingly familiar.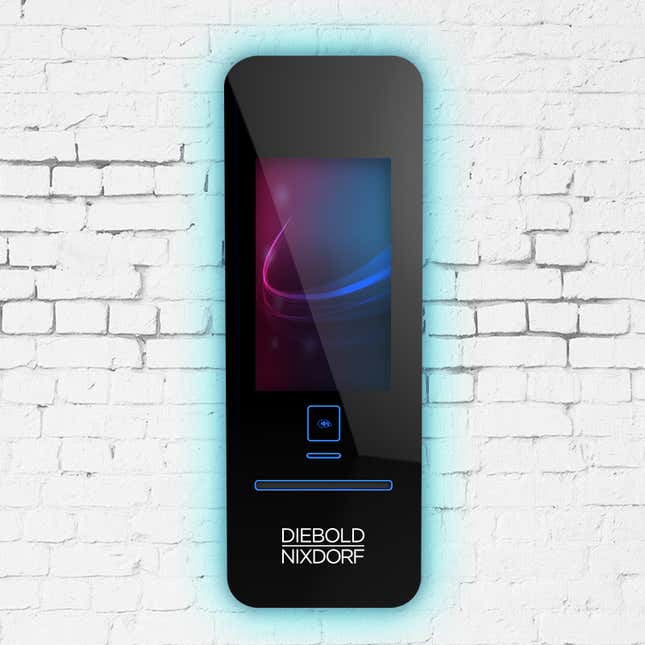 Instead of imitating the vending machine of the 1950s and 1960s, the new design closely copies an iconic design of the current times: the iPhone.
Richard Harris, Diebold Nixdorf's VP of design and new technology incubation explains that Essence, as the model is called, responds to our contemporary instinct to "swipe, scroll and smart zoom" as we do on our mobile devices. "It's all about reducing the visual clutter," Harris says. "We are seeing design trends within consumer products in general which call for sleeker,  smoother lines and smaller bezels."
Following Apple's quest for extreme minimalism, the Ohio-based manufacturer stripped away many design features we've come to associate with ATM machines. Gone are the small display screens, push buttons, multiple slots for envelopes, banknotes, receipts and the PIN pad with Braille dots for customers with visual impairments. Essence's design recalls a similar iPad-inspired ATM concept designed by IDEO for the Spanish bank BBVA in 2010.
Harris explains that accessibility options will be built into Essence's antimicrobial touchscreen, just like in smart devices. Diebold Nixdorf's concept also proposes eliminating magnetic strip readers which are susceptible to PIN number skimming scams, and making the more secure EMV chips the standard for bank cards.
Despite the ATM's radical makeover, Diebold Nixdorf is confident that consumers will easily navigate the new-look cash machines. Says Harris, "we feel that anyone who has used a touch screen device would feel at home using this ATM."
For now, Essence is just a prototype, though Harris adds that since unveiling the renderings yesterday, they've received "high interest" from their customers.