China's president Xi Jinping has arrived in Florida, where he is spending two days in talks with Donald Trump. The US president has often been tough on China in his speeches, but he seems determined to be just as hospitable as possible, having planned a warm welcome—starting with dinner at Trump's Mar-a-Lago residence.
Official dinners are often a chance to employ some refined food diplomacy. When he met with Xi Jinping in September 2015 for his second state dinner, Barack Obama opted for a relatively traditional American menu designed by guest chef Anita Lo, who added a hint of Chinese flavor to the fare: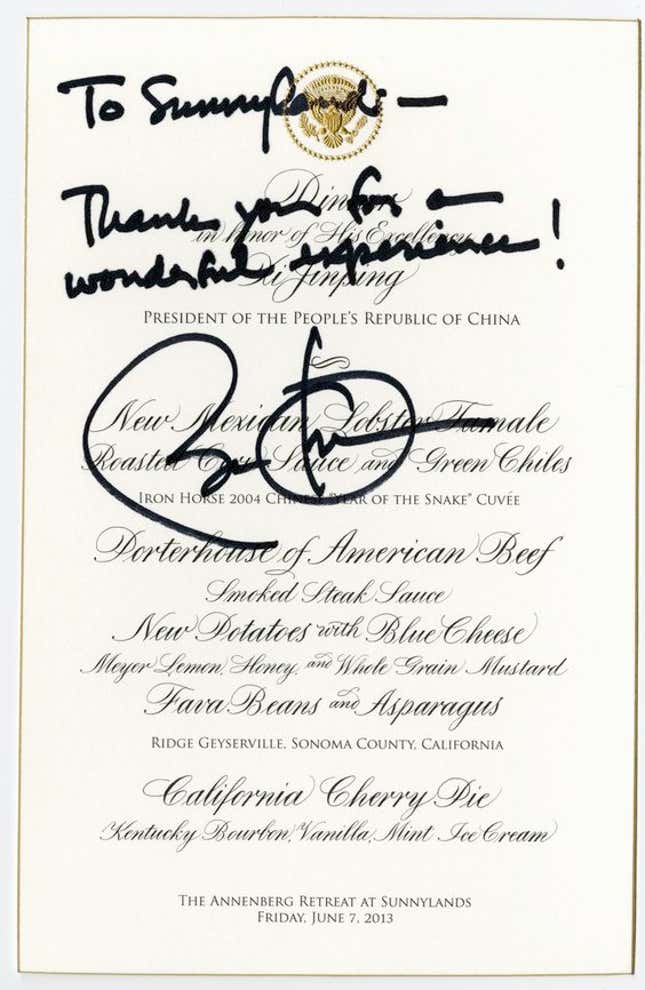 Wild mushroom soup paired with Shaoxing rice wine, lobster (which was served for their first state dinner, too),
a grilled cannon of Colorado lamb served with cubes of tempura-fried panna cotta. That was followed by poppy-seed bread and butter pudding with Meyer lemon curd and lychee sorbet.
Pairing flavors from American and Chinese traditions is a tried and true strategy. But the hosts don't always go in that direction. In 1972, for example, Richard Nixon's dinner with Chinese Premier Zhou Enlai in Beijing was decidedly duck-heavy: Four treasures of duck (and what treasures must they have been!), fried giblet, roast duck, mushrooms and sprouts, duck bone soup, lotus seed sweet porridge, and fruit.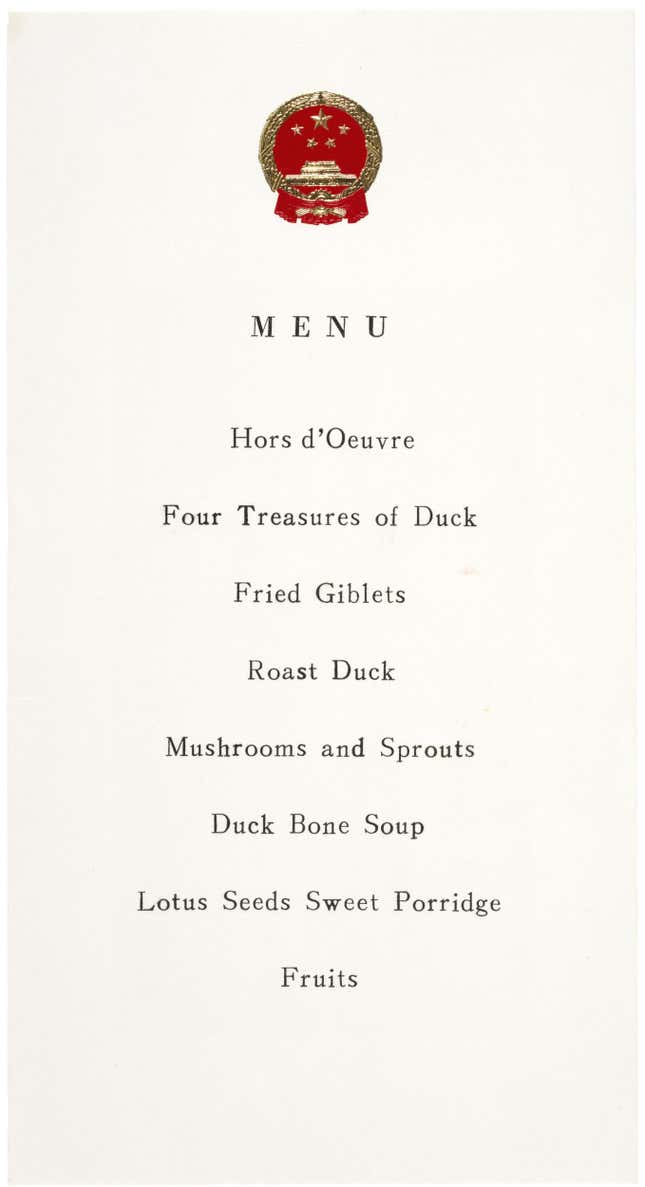 Donald Trump has opted for a different strategy: The menu, as provided by the White House to the press pool, is a safe bet, featuring generally continental dishes bound to please all palates—or none.
Appetizer
Caesar Salad with homemade focaccia croutons, Parmigiano-Reggiano
Entrée
Pan-seared Dover Sole with champagne sauce
Herb-roasted new potato
Haricots verts, Thumbelina Carrots
Or
Dry Aged Prime New York Strip Steak
Whipped Potatoes
Roasted Root Vegetables
Dessert
Chocolate cake with vanilla sauce and dark chocolate sorbet
Or
Trio of Sorbet (Lemon, Mango, and Raspberry)
The wine options are also particularly non-imaginative Californias: A 2014 Chalk Hill Chardonnay from the Sonoma Coast and a 2014 Girard Cabernet Sauvignon from the Napa Valley.
This is the kind of solid, catered dinner one would have at the end of a business event—Parmigiano and focaccia crouton in Cesar salad and all, with just that hint of champagne sauce to try and distract from the impressive lack of any sort of inspiration.