Behold the power of the US president's Twitter account. Just two tweets in 24 hours from @realDonaldTrump account dismantled Mexico's $2-billion plan to protect its currency in early January, according to Mexico's central bank.
Donald Trump's hostility towards Mexico, international trade, and immigration—often expressed in 140-character bursts via Twitter—has weighed on the Mexican peso since before he took office. By January, the peso's value slumped to a record low against the dollar, after falling more than 16% in 2016. This had damaging economic implications, including higher inflation.
To try and stem the decline, Banxico, as Mexico's central bank is known, sold $2 billion dollars from its foreign-currency reserves in the first week of January (pdf, in Spanish). The bank intervened in currency markets twice, its first forays into the market for nearly a year. But the success of the strategy was short-lived. When Trump took to Twitter, the central bank's efforts were undone and the peso fell again, according to its governor Agustín Carstens.
"I'm going to say it like it is, in a very simple way: with two tweets from we know who, the effect faded away," Carstens told the Mexican Senate last week.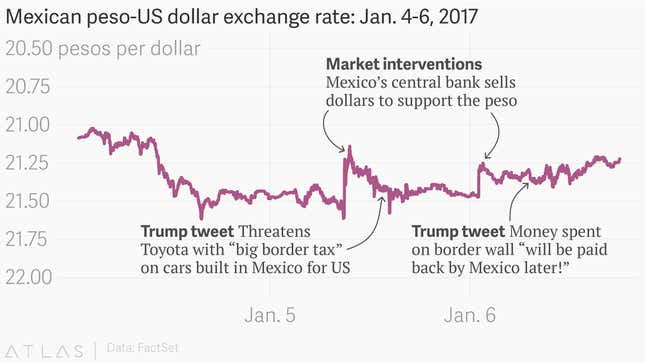 Carstens didn't specify which tweets caused the damage, but there were two of Trump's tweets about Mexico that came after sharp rises in the peso's exchange rate, which signal official interventions. On Jan. 5, Trump threatened Toyota with a "big" tax if it opened a new plant in Mexico to assemble cars for sale north of the border.
A tweet about the financial intricacies of his proposed wall along the US-Mexico border followed on Jan. 6.
The incident forced Banxico to change tack. So instead of selling dollars, it started offering currency hedges that wouldn't eat into the central bank's foreign-exchange reserves, Carstens said.
While the peso's fall in 2016 caused some difficulties, there was a silver lining. The central bank announced profits of 535.3 billion pesos ($28.7 billion) last year on its currency reserves, thanks to the peso's depreciation (foreign assets became more valuable when converted into depreciated pesos). The central bank will split these funds with the Mexican government, which plans to put them to towards this year's budget and buy back debt.
Meanwhile, the peso has regained most of its losses against the dollar since Trump's inauguration.