Recession-spooked Europeans are backing away from buying cars. Sales fell 5.9% in May from a year earlier to a 20-year low of just over one million units, according to the European car manufacturers' association.
But May's sales figures also show that Europe may hold rather different futures for the American carmakers in the fray. While GM joined Peugeot, Renault and Fiat in reporting double-digit sales decline, Ford's sales fell a mere 0.5%. In fact, Ford managed to increase its market share to 7.9% from the 7.4% it commanded in May 2012.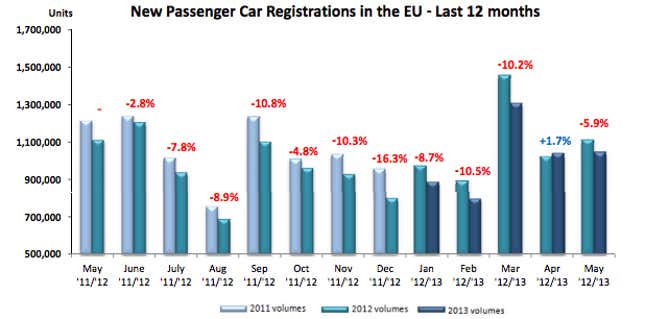 Europe has been a black hole for GM. The automaker has accumulated over $18 billion in losses there since 1999, and there seems to be no end to the pain. Its Chevrolet division remains the biggest drag, with sales down 31.2% in the first five months of this year and plunging 23% in May alone. Opel, the German car-maker that is also a GM subsidiary, and its UK sister division Vauxhall struggled too, struggled with sales dropping 8.4% in May.
The Detroit-based automaker's efforts to stem the bleeding haven't succeeded so far. GM's plan to $500 million in annual costs during the next three years has faced opposition from powerful unions. The company had to rework its alliance with Peugeot and drop plans to jointly develop a mid-sized car. Its scheme to spend $5.25 billion to revive the Opel brand too has been met with skepticism; it's doubtful whether it can appeal to younger buyers.
Ford too expects a tough 2013, with losses from Europe widening to $2 billion this year from $1.75 billion in 2012. But the company is much more bullish on the future. It has started updating its product line to meet the anticipated demand and will roll out the redesigned Mondeo sedan late next year.
The company is also betting on new models like the EcoSport sports utility vehicle to drive sales and reduce its reliance on low-margin sales to rental car companies. Currently 17% of Ford's deliveries in Europe are to rental fleets; the industry average is 13%.
The combination of popular new models and clear management strategy gives Ford a clear edge over its Detroit rival. If the current sales trend continues, Ford could find itself overtaking GM in Europe.