Carme Chacón, the first woman to command Spain's army, taking on the role of defense minister while seven months pregnant, was found dead at her home in Madrid on April 9 at the age of 46. Officials said she died from a congenital heart condition.
Chacón's appointment in 2008 was a big moment for Spain and, if the extent to which one photograph was shared and republished, for the world.  It showed a visibly pregnant Chacón striding down a line of the honor guard of the Spanish United Nations peacekeeping force as they stood at attention. The picture was taken at a military base in Lebanon, two weeks after she took office, on a trip in which she also visited Afghanistan. She was 37, and two months later gave birth to a son, Miguel.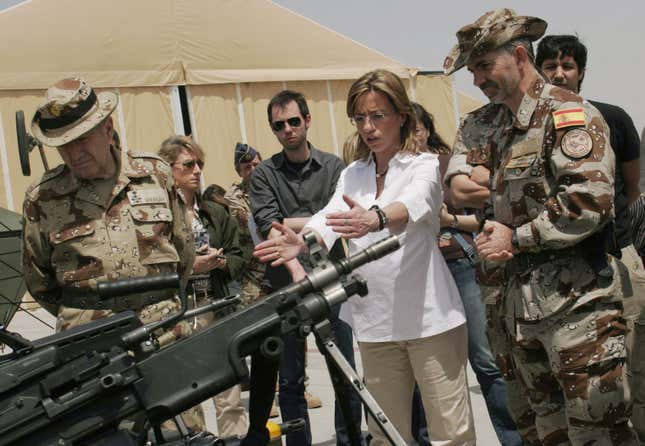 Chacón's appointment came at a time when Spain, as historically patriarchal as any European power, was on a dramatic drive towards promoting gender diversity. José Luis Rodríguez Zapatero, prime minister of a socialist government, had appointed more women than men to his cabinet after re-election in 2008. During his first term, he'd passed laws against domestic violence and in favor of same-sex marriage, and mandated that political parties must have gender parity.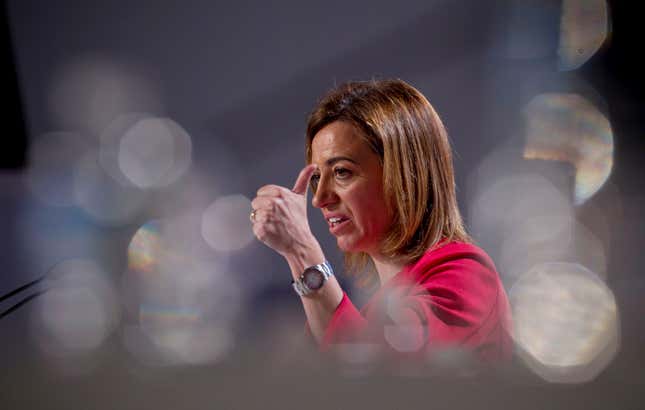 Within Zapatero's government, Chacón, Catalan daughter of a firefighter and a lawyer, flourished. She served as housing minister before taking on defense. She had moved into the defense ministry in part because it had its own kindergarten. On her return from six weeks of maternity leave (Spanish law allows for four months of paid time off), she summarily fired and replaced a number of the military leadership.
After her party lost power in the 2011 elections, Chacón ran for its leadership but lost a very close race.
Some hardline traditionalists called the choice of Chacón as defense minister—she was a pregnant woman, had no military experience, and was trained originally as a lawyer—a sign of "contempt" for the armed forces. But many saw her as a highly competent, compassionate leader, whose appointment showed doubters that barriers to women's power can be overcome at any time of life. El País noted that she stood firm, despite the weight of "Iberian machismo" leveled against her (link in Spanish.)
Tributes poured in today from Spanish media and on Twitter, including one from the current vice president who said that Chacón "opened the door for many:"
And many also shared that picture: A woman dressed in white, easily carrying her pregnancy, as she fulfilled her role as head of an army.