Ford's future is looking greener.
The automaker announced today that it plans to invest $4.5 billion over the next five years to produce 13 new vehicles that are either hybrids or electric cars. Among the vehicles that Ford is committing to release is a fuel-efficient version of its F-150 pickup truck, the best-selling vehicle in the US for the last 35 years.
Citing consumer demand for electrified vehicles (Ford said in a release that 50% of millennials are interested in buying electric cars), the company aims to bring a wide range of models that don't rely on fossil fuels to the market in the next few years, including a fully electric SUV with a range of 300 miles per charge.
Here's a run-down of the vehicles Ford announced today:
A hybrid F-150 truck (available in 2020)
A hybrid Mustang (available in 2020)
A plug-in hybrid Transit Custom van (available in 2019)
A self-driving hybrid vehicle (released in 2021)
A fully electric small SUV (available in 2020)
A Police Responder Hybrid Sedan (available today, and debuting in New York and Los Angeles)
A second hybrid police vehicle (no availability given)
Ford's new police car is the first hybrid that is "pursuit-rated," the company said, meaning that even though it runs only on battery power at speeds below 60 mph, it will be able to keep up with any fleeing motorists as well as a regular gasoline engine car could. The company didn't release any information on the rest of the 13 electrified vehicles.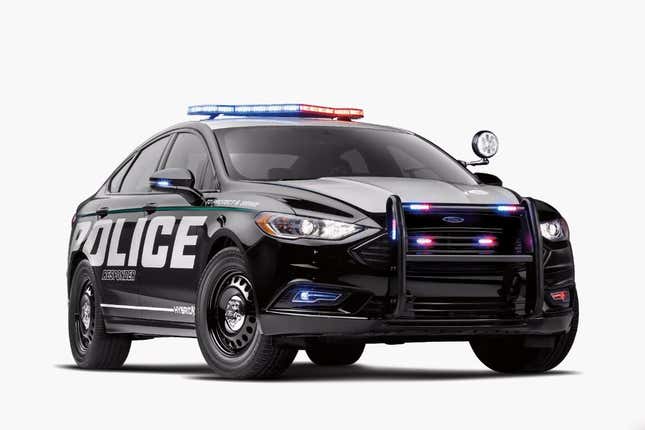 The electric-car wars have charged up in recent weeks. Today's news comes as Tesla, Elon Musk's electric-car company, passed Ford's market capitalization last week, and GM's today in early trading, briefly making it the most valuable US car company in the eyes of investors. GM is rolling out its first all-electric car, the Chevrolet Bolt, to dealers across the US now, and plans to have the relatively affordable $30,000 car widely available by the end of the year. Volvo announced a similarly priced electric vehicle that it expects to have on the road by 2019. The first shipments of Tesla's $35,000 Model 3 SUV, the cheapest vehicle the company has produced, are expected at the end of this year.
Whether consumers will flock to hybrid versions of Ford's most popular models remains to be seen, especially given the relatively low fuel prices over the last few years. But five years is a long time, and it's difficult to predict what prices will look like then, but it is pretty certain that Tesla, and the rest of Ford's more traditional competitors, will have a lot more electric vehicles on the road by then.