A freight train filled with UK-made whiskey, vitamins, soft drinks, and other products set off for the first time yesterday, for China's heralded "New Silk Road," reports China's state news agency Xinhua. In 18 days, it is expected to arrive at the city of Yiwu in eastern China.
The London-Yiwu line recreates the ancient "Silk Road" trade route that once connected Europe to China. This week's cargo will journey 7,500-miles (12,070km) through France, Belgium, and Germany. It will pass from a DB World locomotive to the InterRail, and continue via Poland, Belarus, Russia and Kazahkstan, before arriving on April 27.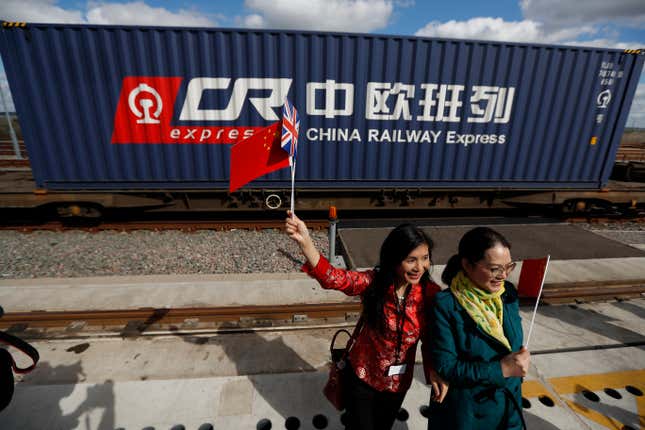 The original Silk Road was a historically important trade route that connected Rome and China, along which goods like silk, wool, gold, tea, and spices were traded for over 2,000 years. Marco Polo traveled to China along the same route, as did Indian Buddhism and Nestorian Christianity.
The New Silk Road is a contemporary overland and maritime trade network spearheaded by the Chinese government's "One Belt, One Road" initiative, announced in 2013 to promote economic corporation between China and Europe, Middle East and Central Asia. With a $40 billion Silk Road Fund, China aims to invest in an infrastructure network of rail links, high ways, shipping routes and also oil and gas pipelines across the Eurasian continent.
Three months ago, the first freight train from China to the UK ran along the same route. As early as Nov. 2014, freight trains had already started running between Spain and China along an old cargo route passing through Germany. While New Silk Road is a much faster connection than the usual 30-day trip at sea between Western Europe and China, marine shipping remains much cheaper. Spanish olive and wine producers have criticized the new train route for its costliness.